Google Keeps Stopping Error
The recent incident of Google stops or Google crashing on Android error has created a new buzz among Android users. Many users are still complaining about the issue while using the Google app on their Android Smartphones. A few of them have reported that the bug is due to the roll-out of a Google app stable update to different brands of Android phones. However, the question is that how one can fix the google keeps stopping error if he/she experiences this type of error in the Android device.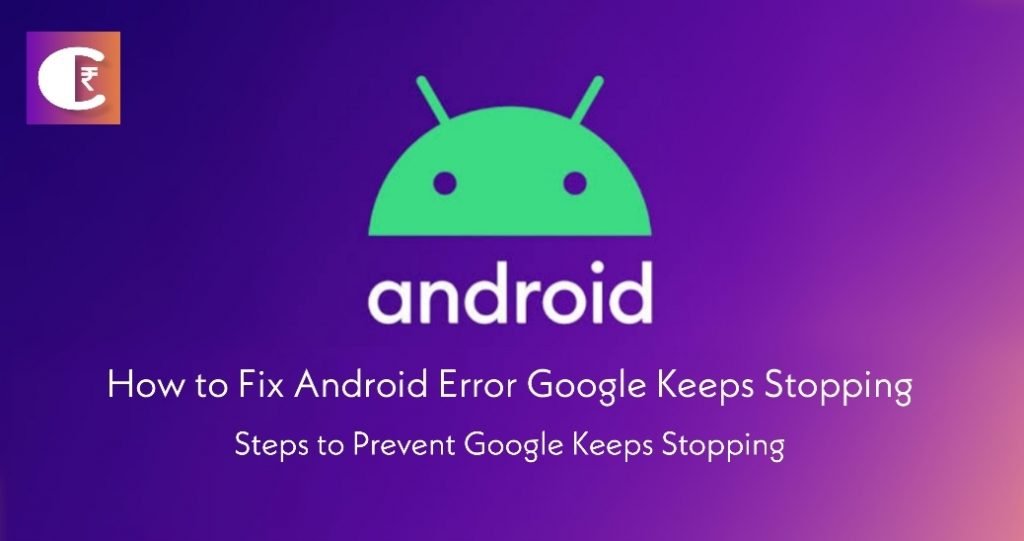 How to Fix the Android Error Google Keeps Stopping
You have to follow the below instructions to fix the error of Google Keeps Stopping on Android.
Step 1: To start, you have to check the online connection of your Android phone. Accordingly, you have to make sure of a consistent online connection.
Step 2: You have to clear the data present in the Android Cache. For this, you have to visit your phone Settings and click on Google for clearing the data.
Step 3: You have to click on the option of disable for clearing the data. To perform this, you have to go to Google Play Store and then follow a few of the simple and easy steps.
Step 4: Look for Google on Play Store and click on Update and Enable you to use any of your Google applications.
Steps to Prevent the Error of Google Keeps Stopping on Android
To start, you have to visit the Settings of your Android phone and reach its App Info.
You have to access the Google App Info by simply from your device's settings or by tapping on the icon App.
Next, you must open the Google App Info and click on the option Clear Data.
After this, you have to click on the option of Clear Cache followed by Manage Space and Clear All Data.
If you want to clean your phone's data permanently, you have to click on OK.
You have to visit your Android phone Settings and click on Sync and Accounts.
After this, you have to click on Google again and click on the option Remove. In this way, you will remove your unwanted data or account present on your device.
Therefore, with simple and easy steps, you will avoid or at least fix the error of Google Keeps Stopping in your Android device.
Google Keeps Stopping Error News & Updates
According to the statement given by a Downdetector user, "Google is consistently showing 403 error message. Your clients do not have the access or permission to obtain it. Furthermore, I experienced the same error while looking up the URL."
The same user also said, "I was wondering whether anyone has experienced such error randomly." Here, a 403-error-message indicates that the server understands the request only but it fails to carry out the error properly.
The second user shared a post, "Google is showing that it has stopped its functions after every two or three seconds, which is an annoying experience for me." Other than this, many other users have observed a pop-up displayed on their screen 'Google keeps stopping' while they tried accessing the Google app.
Others reported that they succeeded to resolve the issue by uninstalling their latest updates on Android devices. According to a Downdetector speaker, "Android users may fix the underlying issue temporarily by uninstalling their latest Google updates. However, as it is an annoying update, Google must test the problem and resolve it as soon as possible".
Why Google Keeps Stopping Error Showing on Android
Today, many Android users have reported their issues with Google while they tried to access the search engine giant on their smartphone devices operated on Android.
To find the error in detail, we have analyzed Downdetector i.e. an online outrage tracker responsible to give real-time information of users about various websites' status. According to the update, Android users have experienced issues accessing Google at about 1:20 am ET on Jan 13, 2023.
Regular visitors of Google experienced problems to use and access Google and a few of them complained about issues while using the Google app on their Android phone devices.
According to the report of Downdetector, approximately 186 people have faced a problem with Google search at 1:20 am ET. Moreover, approximately 62 percent of responders have claimed to face logging in problems. However, the remaining 38 percent have faced problems at the time of using Google's search function.
FAQs: Most Asked Question
What is Google keeps Stopping Error?
This is a kind of glitch or bug that comes from the server connection side.
When did all the users get this error?
This error was reported by android users on June 22, 2021 at 1:30 PM.
How to Fix Android Error Google keeps Stopping?
To fix this, clear the cache data of your device from settings or update the play store to the latest version.