Google Pay Chennai Event Answers
How to Get

Chennai City Cards

in Google Pay Go India – Event Quiz Answers
Go India Chennai Event, Google Pay Chennai Event, Chennai Event Quiz Answers, Google Pay Chennai Event Answers – Google Pay Go India is the most trending game till date, which is played by millions of users. In this game you have to collect city tickets by visiting all 30 cities. For that, KM (Kilometer) is required. There are many ways to collect KM or City Tickets in Go India Game like paying someone on google pay or gifting city cards to your friends. We have already shared informative posts about it.
Watch Now: Google Pay Go India Offer Full Details – How to Collect KM or City Tickets
Now Google pay has started its own specific chennai city event in which you have to visit chennai city from 16th to 18th November in go india game. By answering this event you can get assured scratch card or you'll get Kilometer up to 460 KM and Rare City Tickets on Go India Game. If you submit correct answers in this Chennai Event Quiz then you will get assured scratch card worth upto Rs 100.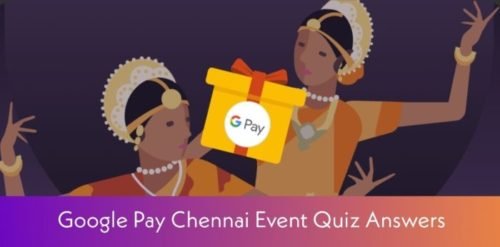 How to Visit Chennai City in Google Pay Go India Offer
Step 1 – First of all Open Go India Offer Game in Google Pay app.
Step 2 – Now Stay in Hyderabad City, then you can play go india chennai city quiz answers.
Step 3 – You can earn chennai city tickets by doing some easy tasks in Google Pay Go India Game.
Recharge Prepaid Plans
Pay for Google Play Recharge
Scan Google Pay QR Code
Share Go India Map or City Photos
Pay Bills
Pay on MakeMyTrip
Buy Gold
Pay at Any Nearby Store
Pay to your Friends
Step 4 – After Reaching GPay Chennai City you can play Chennai Quiz.
Google Pay Chennai Event Answers
Chennai Event Quiz Question and Answers 16th November 2020.
Sweet Dishes
Chennai Cantt
All of Them
Monuments of Mahabalipuiram
Go Help Inside Google Pay App
Kanjivaram Saree
Kollywood
Apo
Marina Beach
You need to give all correct answers to win scratch card worth upto ₹100. Here we provide right answers of chennai event quiz, with the help of this you can win ₹100 in bank or Kilometer and City Tickets.
Chennai Event Question and Answers
Q1. Which of the following is a popular dish in Chennai?
Answer – All of them
Q2. Jangiri, Appam & rava Kesari are all examples of
Answer – Sweet Dishes
Q3. Which of the following is not a railway station in Chennai?
Answer – Chennai Cantt.
Q4. Which UNESCO world Heritage site is located near Chennai?
Answer – Mounuments at Mahabalipuram
Q5. Your shop for a saree at your favcorite store by scanning the QR code on the counter. You need to call Google Pay Customer care for transaction's details. Ho will you find the customer care?
Answer – Go to help inside Google Pay App
Q6. Which type of saree would you be buying from tamil nadu ?
Answer – Kanjivaram Saree
Q7. Chennai film industry ?
Answer – Kollywood
Q8. Not a popular drink of chennai ?
Answer – Apo