iTunes Alternatives
15 Best Alternatives to iTunes You Can Use for Windows Mac
As you know, iTunes is a powerful performer to access music, movies, TVs, etc. However, there is an increase in the number of users who have started to search for iTunes alternatives. With the development of technologies, people have begun to understand the program's defects and considering alternatives that help avoid data loss and save time.
Restoring an Apple device using iTunes is also not an easy task. The other limitation causing users to consider the alternative platforms is that one can transfer data only from iTunes to the iOS device. These reasons are pushing iPhone/iPad and other Apple device users to consider the best alternative that is easy to use, less time consuming, and flexible.
Today, you will be reading about the best fifteen alternatives available for iTunes that work on Windows, Mac, and Linux.
What is iTunes?
iTunes is one of the popular audio playback programs launched by the team of Apple Computer. The program is useful for the import of songs from different audio files, including CDs from the hard drive. Alternatively, iTunes program may download songs via iTunes Music Store by simply paying a small fee. Major aspects of this software are-
Allows Playing Spoken Word Files
Even though songs are common types of files, which iTune play, you may even play varieties of spoken word files, recordings and audio books.
Plays Live Stream of Online Radio
ITunes comes with a radio option, which plays live streams of different online radios from diverse radio stations.
ITunes Library to Create Multiple Playlists
Each of the files you choose to import by using iTune can be stored in its library. The best thing about iTunes library is that you may organize the files stored in it into different playlists. This aspect benefits a lot to all iTunes users, who have approximately thousands of songs present in the library.
Let's You Creating Smart Playlists
ITunes program may allow you to create your smart playlists of your choice. These playlists store various songs according to your set parameters.
Lastly, iTunes program transfers your song playlists to iPod from your PC.
Official Website – https://www.apple.com/itunes/
Best iTunes Alternatives for Windows Mac Linux
Gihosoft iManager
MacX MediaTrans
MusicBee
WinX MediaTrans
Clementine
Foobar2000
Anytrans
MediaMonkey
SynciOS
Tomahawk
DoubleTwist
DearMob iPhone Manager
Dr.Fone Transfer
Fidelia
Swinsian
Let's dive right in.
Gihosoft iManager
Gihosoft iManager is the best alternative and a professional file manager that you can operate on Mac, Windows, and Linux computers. The support it provides to all iOS devices makes it simple to transfer data with ease. Features include:
Transfer between iOS device and PC
It helps you manage, encrypt, and create iTunes backup along with the facility to archive old backups.
MacX MediaTrans
It is another alternative. You can use it to back up data and transfer content with ease. The features of the software are:
You can back up your iPhone using it as a USB.
You can customize audio files and create ringtones.
You can transfer video files that are in HD quality between Mac and other devices.
MusicBee
It is another contender for iTunes alternative that you can use on a computer and Mac. It has numerous advanced features and settings that allow you to have everything in control. The features include:
You can import the music library with ease and manage folders according to the choice.
You can alter the theme of the appearance.
You can use a 15-band equalizer to adjust the audio quality.
WinX MediaTrans
WinXMediaTrans is perfect for Windows users who like to use their iOS device with a PC. The performance and flexibility provided by it help in transferring content with ease. Features include:
You can transfer content from an iOS device to a PC.
You can create ringtones and use a video converter.
You can sync music files on iOS without having iTunes pre-installed.
Clementine
Clementine is a cross management platform. It has several features that help you manage and transfer data with ease. Features include:
Free music player.
Adjust the quality of the audio.
Helps in library management, copying music, ripping, and transferring between different devices.
Foobar2000
Foobar2000 is another top rated alternative. The functionality and flexibility help manage files with ease. Features include:
It supports all the audio formats with ease.
You can customize the interface and keyboard shortcuts.
You can use the advanced tagging feature for better audio file management.
Anytrans
It is the most straightforward iTunes alternative that allows you to customize and configure the settings according to the need. The features of the software are:
You can transfer files and data between different iOS devices, Android phones, PC, cloud storage, and Mac.
The interface makes it effortless to operate everything with ease.
You can browse, edit, organize, and transfer content in simple steps.
MediaMonkey
MediaMonkey is another awesome alternative to transfer data, music, photos, and all files. You can use it to organize media and video files with ease. The features of the software include:
It helps in removing overwritten and duplicate files.
It supports media syncing from iOS and other devices easily.
It supports different audio formats, including MP3, M4A, FLAC, and more.
It helps in the customization of the playlist for both audio and video.
SynciOS
As the name states, you can use the SynciOS to sync data between iOS devices and computers and vice versa. It is a wonderful alternative and helps you manage everything with ease. The features include:
You can transfer from iOS device to computer and vice versa with ease.
You can back up all the content on the iOS device.
You can sync files from iOS to a computer and vice versa.
Tomahawk
Tomahawk is different when compared with others. However, it has multiple features that allow you to transfer data with ease and is one of the best iTunes alternatives. The features include:
It helps you manage music and social media accounts.
You can create custom stations and connect with others to share and explore new music.
The management provision and customization offered helps organize easily.
doubleTwist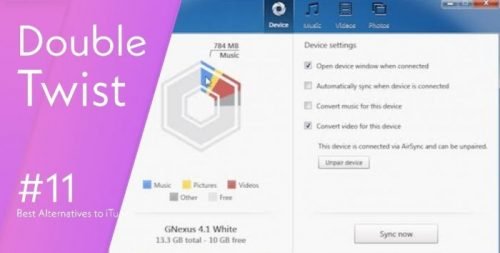 If you need features that help you transfer data and gives a tough fight to iTunes, doubleTwist is the answer. The features of the software are:
You can organize all the files with ease, especially media files.
You can sync all the playlists.
You can access media files from the cloud services.
DearMob iPhone Manager
Dr.Fone Transfer is a multifunctional tool for iTunes. You can transfer content and media from iOS and Mac to PC and vice versa without iTunes. The features include:
You can create a backup of all the content.
You do not need iTunes to transfer from iOS devices to a computer.
Fidelia
It is a professional music manager and an excellent alternative to iphone software. The essential features include:
It supports all media formats.
It uses iZotope technology for high-quality conversions without consuming excessive time.
Swinsian
It is another sophisticated iTunes alternative and allows you to have complete management of files. The features include:
It has an ID3 editing tool.
It has a fast and robust processing algorithm.
You do not require any third-party tool for the customization of media.
Frequently Asked Questions
You Might Also Like:
Finally, here are the 15 best alternatives to iTunes are in front of you. All these softwares will help you in making your daily tasks easier. You can easily run these software on your iPhones, iMac, Macbook and Windows like device. This alternative replaces iTunes with all the ultimate features. Must install once and try it yourself.