Tencent Gaming Buddy
Tencent Gaming Buddy

Download for Windows 10 to Enjoy PUBG Mobile
Tencent Gaming Buddy for download is an advanced free emulator by Android powered by the gaming giant of China named Tencent.
The main function of Tencent Gaming Buddy emulator is to provide access to PC gamers to highly optimized accurate version of the mobile based PUBG emulator. The app deals with the full version of the PUBG game effortlessly with the access to DLC packs, each of the online modes, friends management, daily rewards, voice chat and many more.
Tencent Gaming Buddy is Perfect to Run on Old PCs and Laptops
Tencent Gaming Emulator surpasses the PUBG gameplay and its visual elements on different mobile devices. In this way, the PC version of PUBG allows high resolution rendering, provides stable frame rates, gives mouse control, complete keyboard integration and many more.
The best thing is that you may achieve each of the mentioned features with a modest gaming configuration of the desktop. Indeed, Tencent Gaming Emulator is especially helpful for all individuals, who own old PC, laptop or desktop and often face difficulty to handle the PUBG's native version easily.
Key Features of Tencent Gaming Buddy
Tencent Gaming Buddy is an excellent Android emulator for PUBG.
The app is of optimized fully to use it on varieties of laptop or PC configurations.
Tencent Gaming Emulator gives support to mouse, keyboard and gamepad controls.
The emulator has full support for online marketplace, voice chat and online gameplay.
Tencent Gaming Emulator is a stable emulator and undergoes update regularly.
Steps to Install PUBG Mobile Using Tencent Gaming Buddy
Well, here are the final steps to download PUBG Mobile on your PC using tencent gaming emulator.
Step 1: Download Tencent Gaming Buddy
To start, you have to download the file of Tencent Gaming Buddy, which is approximately 9 MB size. On doing so, you will find that the file downloads in few minutes or seconds depending on the speed of your internet connection. Your downloaded file will save to your chosen location or to the default Download folder.
Download Tencent Gaming Buddy for Windows
Step 2: Run the Installation Setup of Tencent Gaming Emulator
Once the download completes, you have to open the Tencent Gaming Buddy installer and follow the mentioned steps:
Click on the customize button first rather than pressing the install button.
Select the directory or folder, where you have to install your favorite PUBG. Tancent Gaming Emulator often chooses the last drive present on the disk or the drive that has free space.
Now, you have to click on the option of install button. Here, you must wait for sometime to let the process start and press the Start button.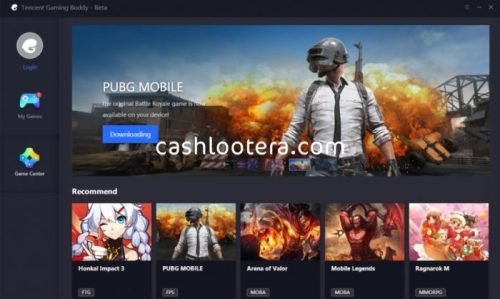 Step 3: Wait for the Installation of PUBG
PUBG installation takes time for download. The installer will initially download the game engine I.e. Tencent Gaming Buddy to launch the actual game. Later, TGB will download APK file of PUBG mobile.
Therefore, with simple steps you get Tencent Gaming Buddy in your Windows 10 PC and then get your favorite PUBG mobile game.
Details of Tencent Gaming Buddy Installation Package
The installation package of Tencent Gaming Emulator does not possess any Android software. When you boot the emulator for the first time, you get the option for downloading and installation of the PUBG emulator based video game and the process unfolds automatically.
Once you fire up the PUBG game, you may access various customization options easily to cover each of the interested areas for both emulator settings and gameplay options. You get the chance to setup the size of the window, the required framerates, the amount of RAM to allocate and similar others.
You may even optimize the necessary PUBG controls according to preferences and you may avail of the benefits of the emulated function of finger tap at anytime during your gameplay. You simply have to click the tilde button and the mouse on your computer screen.
Tencent Gaming Emulator even comes with gamepad support so that you may easily play your game from the couch. PUBG mobile players using Tencent Gaming Emulator do not have any match with any other PUBG mobile player. Accordingly, you get match with other PUBG users using precise and flexible keyboard as well as mouse controls.
Customization Features
Like other mobile emulators, Tencent Gaming Buddy allows you to configure the control overlay for PUBG Mobile. These controls are often context-dependent, so the control scheme changes to match as you're driving or opening your inventory.
There are a few more ways to toggle ADS, such as keeping or clicking the hotkey. For those who want to live on the edge, there's also the option of setting up a boss key (which easily hides the window).
You can lock or unlock the mouse with a single button press when you need to tap on a certain section of the keyboard (the default is tilde). Once you're comfortable with the buttons, you can choose to cover or display the mini hotkey overlay.
Although the controls are user friendly, Tencent Gaming Buddy falls short in a few areas compared to the original PC version of PUBG. The scroll wheel is the first, and it can react in unpredictable ways at times.
Tencent Gaming Buddy has got you covered if you prefer to play with a controller. To get a similar experience to PUBG for Xbox, you can use a gamepad and customize the controls.
Frequently Asked Questions
Q1. Is Tencent Gaming Buddy still Available?
PUBG mobile was banned along with the rest 159 apps in India due to Indo-China border security issues. But you can still play Pubg in PC's version. For this you need to download Tencent Gaming Buddy to your windows pc. Tencent Gaming Buddy is still available. It is an emulator software that helps to run pubg on your computer. We have given you a direct link to download it, enjoy it from there.
Q2. Why Tencent Gaming Buddy is not working in Windows
The link we provided, you download the tencent gaming emulator from there, install it and launch it in your PC. Now install pubg mobile in any of your favorite folders, now wait for some time. You can enjoy pubg after successful install. If you have already installed tencent gaming buddy and he's not working properly then delete it and re-install it from the place mentioned.