Carlo Character Pubg Mobile
Working Trick to Get Carlo Character for Free in Pubg
Carlo Character in Pubg, Free Carlo Character Pubg Mobile, Unlock Carlo Character for Free – Hey lootero, Hope you all be well. Cashlootera has not been updated for the past few weeks due to my health issues. But now all is well, I will keep publishing new tricks and updates daily.
Today we are sharing the trick of acquiring one of the popular character of pubg mobile. PUBG launched the carlo character a few months ago, which was well liked by the users of pubg mobile. Carlo is very good in appearance, along with it you get eye-catching outfits for this character and cool emotes too.
If you have not seen the carlo character then you can check right now. For that, you can click on the workshop and select the character option. There you will find all the characters of pubg mobile.
Otherwise, look at this Image.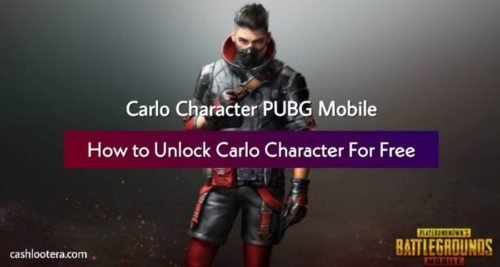 I know you like it a lot. But sad thing is that, it is not free. The pubg has kept its final price 1200 UC. But we can also get it for free. To use this trick, you have to make some discipline & keep some patience too.
Let's Dive Right in.
How to Unlock Carlo Character for Free
pubg brings new event sessions in its events section. In which we get something new every time like temporary outfits, premium and classic crates, vouchers etc. At this time you can earn free character vouchers with the help of event missions.
1. Go to the Event Section.
2. Then you will see some event missions, when you complete those missons you can collect your free reward.
3. After it, you can redeem/exchange your character vouchers using those rewards.
4. When you collect enough character vouchers to unlcok carlo character.
5. Goto the workshop & then click on the character option.
6. Click on Unlock button to get free carlo character.
The value of a character voucher card is 30 UC. You have to collect all 1200 UC voucher cards to unlock carlo for free.
Carlo Outfits & Emotes
Along with Carlo you will also find some legendary and mythic outfits which will require more and more gameplay with Carlo to unlock. Along with this, you can also get some cool emotes. You can see all carlo outfits and emotes in workshop > character section. But they will be locked now, to get them you will need a few things which helps to unlock them.
[maxbutton id="5″ url="https://t.me/cashlootera" text="Join Telegram Now!" ]
PUBG News: Character Coming Soon
You will also get to see the andy character in the coming time or in the new update of the pubg mobile. Whose looks and moves will be more advanced than carlo. You can get the andy character with the same trick, for this you start collecting free character vouchers from today itself.
Time to Take Action
So guys is the only way you can get carlo or any other character for free. The pubg does not approve hacks in any way, if you do something through such a website, you will be banned or your account will be permanently closed. So use all legal and safe tricks. We will be back with you soon with a new trick. Stay tuned & Stay Safe.