The ChatGPT has just been introduced and is becoming more and more popular each day. ChatGPT, a newly released Artificial Intelligence algorithm, is available in a variety of languages and is absolutely free to use. A large number of people are experiencing the internal server error in ChatGPT due to the amount of traffic. So whenever you attempt to log into ChatGPT, this error is displayed. In this article, we will explore how to fix ChatGPT internal server error issue. So keep reading!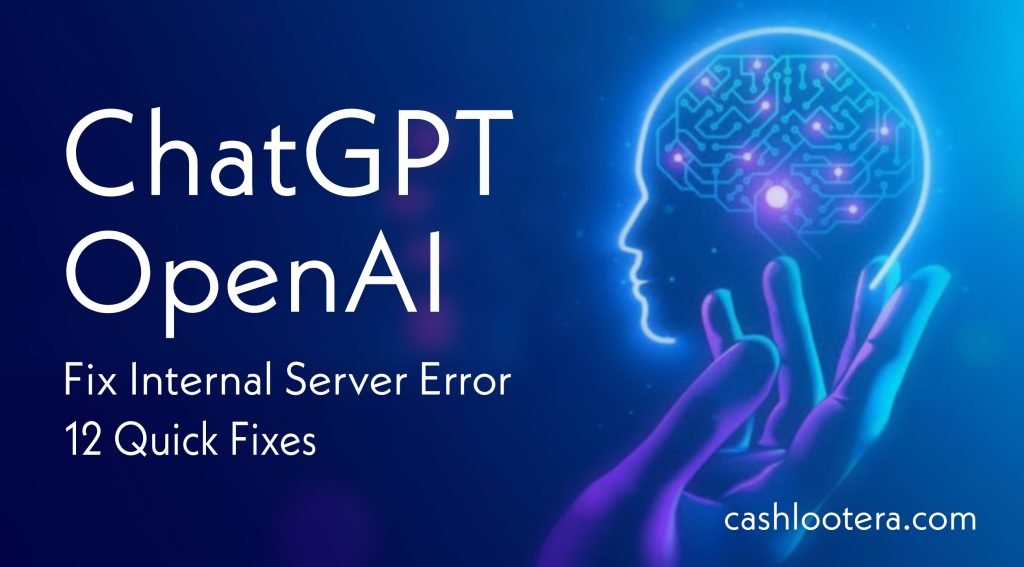 ChatGPT Internal Server Error?
Server internal errors (also called HTTP errors 500) are generic error messages indicating that the server encountered an unexpected condition preventing it from fulfilling the request from the client (such as an API client).
There can be several causes of internal server errors, including misconfigured servers, script errors, and hardware or software issues. With no additional information or diagnostic tools, determining the exact cause of the error is often difficult.
Such errors are usually reported on the Open AI Discord server by developers. For more information, I recommend checking the company's Discord account if you encounter this error.
What Causes this Internal Error in Chat GPT?
If your login request is unable to be processed by Chat GPT's servers, you will receive the ChatGPT internal server error notification. A variety of factors can contribute to this issue, including: B. Server misconfigurations, faulty login systems, and memory and storage limitations.
A ChatGPT Internal Server Error occurs when a server-side problem prevents a website from processing a request. As a result, the service may not respond or may generate incorrect responses.
The error is mostly caused by overloaded servers when a site receives a large amount of traffic. However, there are other possible causes as well:
There is too much information in your input prompt.
Problems connecting to the internet.
How to Fix ChatGPT Internal Server Error?
According to the ChatGPT internal server error message, most errors occur due to erroneous user behavior. Login loop issues are more likely to be resolved by testing your end than by troubleshooting Chat GPT.
I have compiled guides to explain how you can get things back to normal as soon as possible. Here are some ways to fix the issues and help you get started.
Access OpenAI by Logging in
Using any of OpenAI's online AI bots, including Chat GPT, requires an OpenAI account, so be sure to get one if this is your first time. If you still have problems using Chat GPT after making an OpenAI account, log into the website and create another account.
Cross-Check the ChatGPT Servers
The first thing you should do when experiencing problems with Chat GPT is to check the servers. It is possible that the service goes down occasionally when it receives too many requests since it attracts a large number of users.
There is really nothing you can do if the servers are down. Unfortunately, server-related errors can only be fixed by the server.
Try refreshing the ChatGPT Web Page
There can be temporary glitches or overloads on the server that can cause an internal server error. If this is the case, you may be able to resolve the issue by refreshing the ChatGPT webpage and trying again.
Ensure a Steady Internet Connection
An 'Internal Server Error' message can be displayed on Chat GPT when the internet connection is slow or unstable. It is important to check your internet connection for stability and speed in order to avoid this issue.
Delete the Cache and Cookies from your Browser
It is possible for your browser's cache and cookies to become cluttered, which could lead to various problems, such as the "Internal Server Error" in ChatGPT. Usually, this problem can be fixed by clearing your browser's cache and cookies.
Disable the Browser Extensions
Some websites, such as ChatGPT, may also be affected by third-party extensions. We recommend that you turn off all browser extensions on your computer before using the platform if you have any installed.
You can disable your extensions by following the steps below:
Go to the settings page in your browser.
On the left side menu, click the Extensions tab.
Finally, restart your browser after you have disabled all extensions.
Tap New Chat to Reset ChatGPT
Whenever you get an 'Internal Server Error' message when using ChatGPT, tap on the "New Thread" button located at the top left corner of the ChatGPT window to reset the program. You now need to type your query into the new thread you've just created. Hopefully, this will resolve the problem. However, there may be a problem with the ChatGPT server if the error persists. If this occurs, it is recommended wait for a short period of time and try again.
Ensure that Network Drivers are Updated
If you are still experiencing internal server errors with ChatGPT, you can try updating your network drivers. It may be that you have an outdated or corrupt network driver that is causing issues with your connection.
To update your drivers, follow these steps:
Start by pressing the Windows + X keys on your keyboard to bring up the Quick Menu.
Then click Device Manager.
Next, you can now expand the tab.
You can update the drivers by right-clicking the network controller and choosing update driver.
Once your drivers have been updated, restart your computer and check if the problem has been resolved.
Try Again at a Later Time
The best thing you can do is wait until you can find an open spot on the ChatGPT server again before using the tool again. It is advised to keep refreshing the page until the issue has been resolved and access has been granted.
Flush DNS
You may also be able to resolve ChatGPT's internal server by flushing your DNS. I recommend doing this if you haven't already and see if it resolves the issue.
The following steps will help you flush your DNS:
Open the 'start menu' by pressing the Windows key on your keyboard.
Go to the 'command prompt window' and click 'run as an administrator'.
Type 'ipconfig /flushdns' into CMD and hit enter.
After doing this, restart your computer to see if the internal server error has been resolved.
Switch to a different browser
In some cases, the problem with ChatGPT not working can be caused by the browser itself. ChatGPT may not function properly if you are using a certain browser. If you encounter errors, try ChatGPT in a different browser. The market is full of popular browsers. Among the most popular browsers are Google Chrome, Safari (Apple), Microsoft Edge (formerly Internet Explorer), Mozilla Firefox, and Opera.
Get in Touch with Open AI Support
To ensure that these issues are addressed quickly, OpenAI is always seeking feedback from users. As a result, we encourage you to notify OpenAI about any issues you encounter so that they can be resolved as soon as possible. You can get help from the OpenAI support center.
OpenAI Website – https://openai.com/blog/chatgpt/
There are many users who are experiencing problems with ChatGPT, with the error message displaying as internal server error ChatGPT, and they are looking for the solutions to get rid of it. In this article, my focus is on how to fix ChatGPT internal server error issue as many users are facing it. Let me know if you still face any issues.