Are you looking for an alternative from which you can earn money while sitting at home without any investment?
EarnKaro is an Money Making Application that gives you opportunity to earn money with zero investment. EarnKaro is offered by CashKaro.com which is India's highest cashback & largest Coupons website.
Talk about EarnKaro, it works just like Affiliate marketing. (Eg – Amazon, Flipkart, Myntra, GoDaddy etc.) In Affiliate Marketing, we need to sell the products of a company or service, and as soon as someone buys them through us, we get its commission.
In EarnKaro too, you will have to do same task, you will have to make your Profit links for some products and share it with friends or relatives using facebook, whatsapp etc. After that, as soon as they buy that product through your link, you will get 10% commission of it.
Not only this, EarnKaro also gives you free ₹50 while signing up, you can also earn ₹50 by sharing the app with your friends. And you can also earn 10% profit of your invitee's earning.
EarnKaro App Offer
Get ₹50 on Signup for new account with EarnKaro App and Get Another ₹50 on EarnKaro Refer & Earn Program. You can earn Unlimited Money every month by creating Profit link of any product from any sites or store. Refer Friends and Earn 10% Profit forever!
How to Get Rs 50 on Signup for New Account
First of All, Download the App in your Android Device. (Use this Link 👇)
[maxbutton id="1″ url="https://earnkaro.onelink.me/3HrN/c6b17e0a" text="Download EarnKaro App" ]
Install & Open EarnKaro App.
Click on Signup button.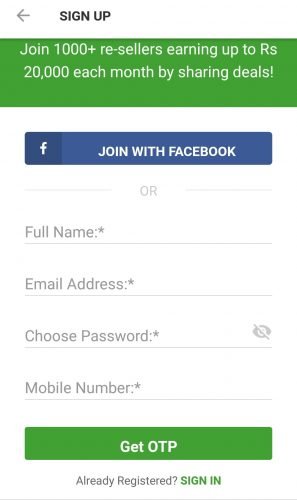 Enter your Full Name, Email Address, Password or Mobile Number.
Then tab on Get OTP.
Verify your Number with OTP (One Time Password).
Now Click on My Profile Icon & Tab on Profit.
Here you will see ₹50 in your EarnKaro Wallet you can withdrawal it in your bank account. Minimum Withdrawal limit is Rs 250.
EarnKaro Refer and Earn Offer
Open the App
Goto My Profile section.
Tab on My Referrals
Then, click on Refer & Earn Lifetime
Now you will see your invitation link copy it.
Share with your friends when they joins the app by your link.
You both Get ₹50 in your account as pending bonus when your friend hits ₹250 in their your account.
Your ₹50 bonus gets approved.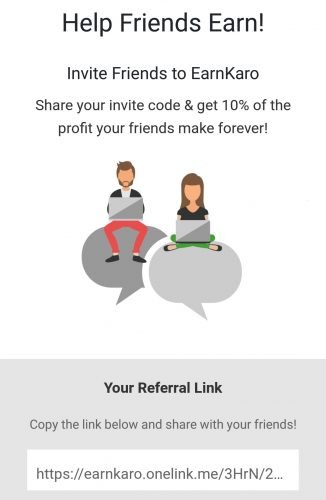 ---
How to Make & Use Profit Links
Make your own affiliate links from any e-commerce store or site and share with your friends to earn commission with these simple 4 steps.
Step 1 – Open any Store & Copy link of that Product or Service that you want to promote.
Step 2 – Now, Open EarnKaro go to "Make Links" section & paste the copied link in that box.
Step 3 – Finally, tab on "Make Profit Link" button and copy your own profit link.
Step 4 – Share your Profit Link with potential customers on Facebook, whatsapp etc.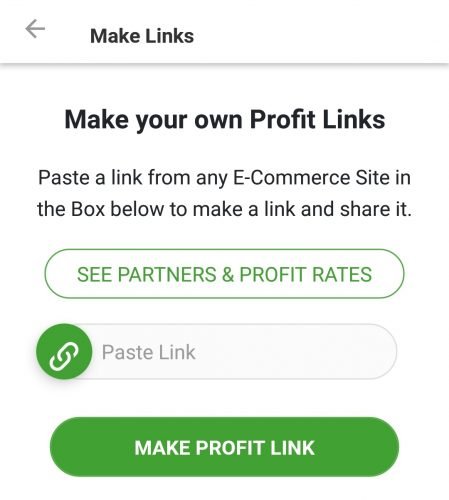 Now, Take a Cup of Coffee & Relax! When someone buys the product that your share with your "Profit Link". The money will be credited in your EarnKaro Account, when you get approved income minimum of ₹10 you can withdraw it on your bank account.
Benefits of Using EarnKaro App
Easy Reselling – Since all deliveries and returns are handled by retailers like Amazon and Flipkart themselves, you will never lose. If a purchase is made using your link, you will make a profit – the simple link sharing model makes reselling easy.
Zero Investment – You don't have to buy anything or spend money on delivery, etc. There is no investment in the earcar app, you just need to spend time and share your profit link with more and more people.
High Quality Products – Get high quality products directly from top brands at trusted retailers like Amazon, Flipkart, Myntra and more.
Payment Option – You can transfer funds directly to your bank account or redeem the benefits by earning yours in the form of an Amazon or Flipkart gift card.
You Can Also Make your Own Profit Link – Buy any product from sites like Amazon, Flipkart, Myntra, Jabong, Ajio and 1500+ of India's top e-commerce sites. So, whether you are Amazon Affiliate, Flipkart Affiliate or just want to try your hand at affiliate marketing – there is no reason to say 'no' to this free money earning app.