Game lovers do not need to wait for its release date to enjoy FIFA Ultimate Team. Instead, it is now easily accessible and has become a popular game mode in the FIFA franchise by EA Sports. FIFA 22 footballers may start creating their Ultimate Team advanced of the official release date globally. Users should use the FIFA Ultimate Team 22 web app or companion app. Both apps are available for Android and iOS devices and on Google Play Store and Apple App Store.
FIFA 22 Web App
The FIFA 22 Web App or Companion App allows FIFA 22 gamers to edit their Ultimate Team club instead of PlayStation or Xbox game console. Accordingly, web app or companion app users may manage their squads and purchase packs in the store to monitor the entire transfer market. One can also participate in challenges related to building squads. FIFA 22 will be available for worldwide play across Nintendo Switch, PC, Xbox, and PlayStation from October 1 to commence the gameplay.
Note: Gamers cannot play matches through the companion or web app but may avail most of the key administrative activities related to the game mode.
FIFA 22 Web App Login
Game lovers may access the FIFA 22 Web App on almost every device, including their computers and laptops by visiting the official website of EA Sports via any online browser. Moreover, you may download it free on Android or iOS mobiles and tablets. You should search for FIFA 22 Companion App on your phone's Play Store or App Store. However, if you already possess the FUT Companion App on your device, do not download it again. Instead, your device will update the existing app automatically. You may use the existing EA account to log in to your FUT Companion/Web App or create a separate profile.
Key Aspects to Know about the Access Info
Make sure to create your FUT Club in FIFA 21 and log into the latest FUT 22 on your companion or web app before August 1. Doing so will give you early access to the apps at their launch.
Your FUT 21 account should continue to exist. If you delete your Club, you may no longer get early access to FUT 22.
Your account should be in good standing. If you do not have access, it implies that you have violated a few rules previously. In some cases, failure to access your account takes place if the app does not have enough information about you to provide you access or privilege.
Platforms
Gamers will get FIFA 22 Web App only on the web and may access it only on the web browsers of their laptop or desktop computers. If you want to use FUT App on your mobile phone, use FIFA 22 companion app.
Steps to Start FIFA 22 Companion or FIFA 22 Web App
Use the email address on your account that has the status of either FUT 21 returning user or FUT 22 club.
Turn on your login verification to retain the security of your account.
Check and know your selected security questions and their answers.
Users may not use the FUT Companion App or FUT Web App while they logged into the PC version or game console of FUT 22.
When you log out of the FUT app on your PC or game console, return to the main FIFA menu before shutting down your system. Otherwise, wait for a while to log into your Web App again.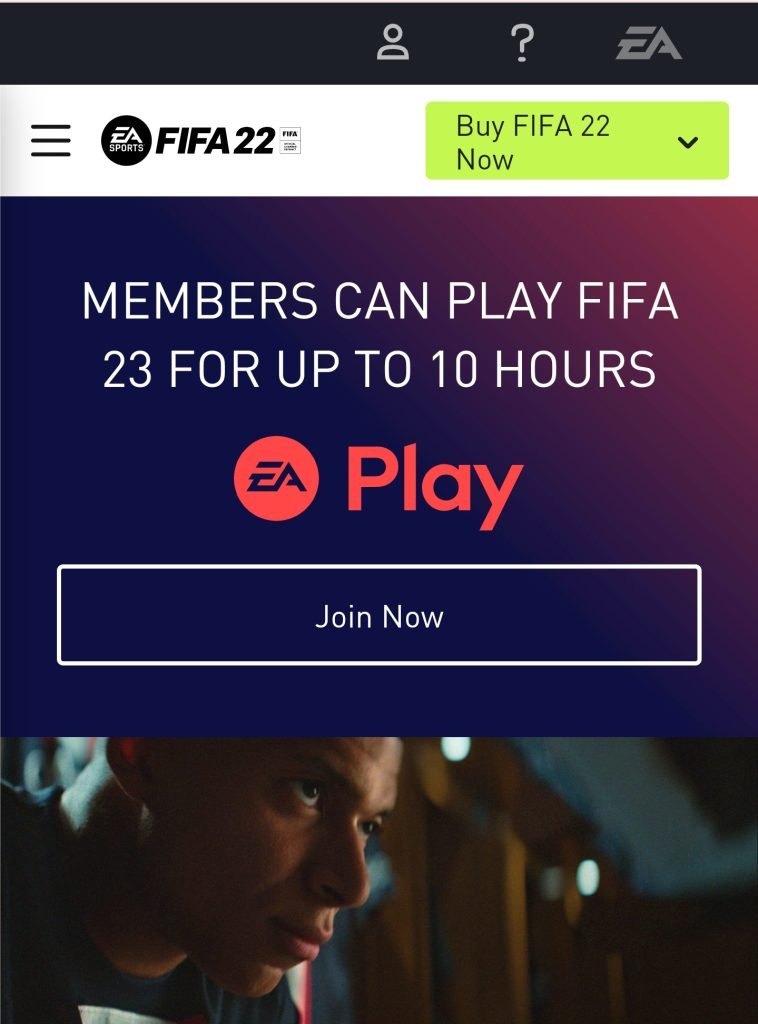 Access to the Transfer Market
Gamers who want to access the transfer market of FIFA Ultimate Team on a Companion App or Web App should play it on their game console or computer for approximately 5 days. As gamers play FUT, the system will check and verify their accounts. If the system finds the fair account status of the gamers, it will unlock the access to Transfer Market and send a valid email. Individuals who have already played FUT see that their accounts have been blocked from the App's Transfer Market. In this situation, users may no longer have Transfer Market access because of activities that violate EA rules. Accordingly:
EA Sports actioned the players' accounts and blocked Transfer Market access from their accounts because of unusual activities.
EA will block accounts, which violate rules from using or accessing the Transfer Market on FIFA Companion or FIFA Web apps. EA takes such actions to provide a fair experience to each gamer. If you perceive that the action is a mistake, you may send an email to EA Sports.
Note: The system always intends to give a fair experience to every player via the Transfer Market. Simultaneously, it ensures that every gamer plays without violating the set rules. Players should play FIFA Ultimate Team on their game consoles or PCs normally to unlock their access to the Companion or Web Apps Transfer Market.
FAQs: Most Asked Question
What are the requirements to use the FIFA Ultimate Team Web App?
FIFA Ultimate Team players should possess a valid EA Account, a FUT 22 Club, and a copy of FIFA 22 before they may use the companion app or web app. If gamers have FUT 22 Accounts for Xbox One, PlayStation 4, or PC, they may even use the Companion or Web App. However, none of the FUT apps support the Nintendo Switch accounts.
How can users protect their FUT 22 accounts?
The system asks every user to protect the FUT 22 account by setting up a few FUT security questions on their PC versions or game consoles. Simultaneously, every individual should secure their EA accounts with mandatory login and verification.
How early access will work in FUT 22?
Every qualified returning user of FUT 22 can log in to their web apps for a limited period before the launch of FIFA 22. If anyone has already created a FUT account before August 2020 and logged in on the PC or game console, he/she may get early access both in mobile and web versions. In contrast, if FIFA 20 banned your account or you delete your FUT club at any instance, you may not get early access.