How to Earn Money with Frapp App 2020
Frapp App is Offering you ₹5 on Per Referral Bonus. When your Invitee earns ₹30 in Frapp you'll get your Referral Bonus. You can find Different types of tasks and missions to earn free paytm cash. Become a Tasker or Micro-influencer on Frapp App and Start Earning from your Smartphone.
What is Frapp App?
Frapp is a MicoJob Company, which gives you the opportunity to become a Tasker & complete Missions, Gigs and the Internships from the Top companies of India.
FRAPP provides us with some simple tasks and missions, which we can earn by completing. You can do this task from your home or anywhere, for this you only need to have your own smartphone. Find any easy mission or task, apply it. You will be given your reward as soon as you complete the mission.
Some of the top companies in India hiring Taskers through the frapp app, you have to join them and do some easy tasks which gives you a golden opportunity to earn money. You will be given some of the following types of missions and microjobs such as –
Marketing
Operations
Sales
Research
Mystery Audits
Contests
Campus Ambassador Opportunities
Social Media MicroInfluencer
How to Apply Frapp Referral Code
First of All, Download the Frapp App in your Android Device.
[maxbutton id="1″ url="https://s.frapp.in/g5dICRPr" text="Download Frapp App" ]
Install & Open the App.
Enter your Mobile Number.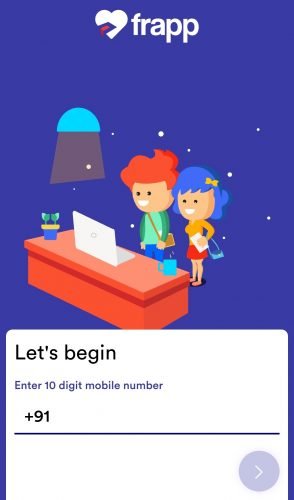 Type your Name, Email or your City.
Welcome to Frapp. Now your account has been successfully created.
Now Goto Referral Section from Dashboard.
Here you will see a option of "Want to Enter a Referral Code?" Click on it.
Now Enter this Referral Code in the box "80MI7Y" and Hit the Done Button.
Frapp App ₹5 Refer Earn
Open the Frapp App again.
Click on Menu > Referrals
Now you will see your Referral Code.
Copy or Share with your friends
When he installs the app using your code and Earn Rs.30 by completing missions
You'll get one time bonus Rs 5.
How to Complete Mission in Frapp App
Missions are mini-internships on Frapp! Complete Easy task and Earn cash rewards.
Once you completed the mission, you can earn straight to your Frapp Missions Wallet.
Note – Referral Bonus is not valid on Welcome Mission.
Step 1 – Select any Mission from Marketing, Sales or Live Project Training.
Step 2 – Read Some information about the tasks and Hit the Apply Now button.
Step 3 – Once you applied for the mission, you need to wait for a time.
Your Application is Under Review.
Company review your application and may choose you for the mission. They will inform you when a decision is made. Good Luck!
Step 4 – When you successfully selected for the mission. Tab on Start Task.
Step 5 – Read some instructions and Tab on Continue to Complete the mission.
Once you've completed the task you'll get your reward.
FAQ on Frapp App
Ques : What is a Mission?
A Mission is a task or a set of tasks that students can perform for a company. The mission can be done using the Frapp mobile app or website.
Ques : What Do I Get for Completing a Mission?
You can earn rewards by completing missions! All rewards will be displayed in the mission and can be checked by the student before applying.
Ques : I Completed a Mission, Where is my Reward?
Rewards May take a processing time of upto 30 days from the date that your mission is checked or approved. The responsibility of rewarding the students lies with the company who issued the mission. In case you were not rewarded, first ensure that all your tasks were approved. If your reward is not processed within 30 days, please contact support.