Google Pay Go India Collect Tickets Visit India Offer
Visit All Cities of India &

Get Rs.501 in Bank Using Google Pay Go India Offer
Hey guys, are you also excited about the Google pay go India offer and prepare your mind to collect Google Pay Go India Kilometer? If yes, then you come to the right place.
Because today I am going to provide you the ultimate guide on Google Pay Go India, visit all cities India offers by completing which you will get Rs 101 – Rs 501 on your bank account directly. So let's get started without wasting your precious time.
As we all know that Google Pay is known for its exciting offers, especially during festival time. You remembered about previous games like Google Pay Diwali Stamps Offer and Google Pay 2020 Stamp Offer.
So they come with a new exciting offer named Google Pay Go India Offer, which is organized for the auspicious festival Diwali. Yes, we cannot decline that the company offers this offer only for its vast promotion, but we should focus on the loot.
In this article, I will share the best tricks to enable Google Pay Go India Game Banner in a couple of efforts that ultimately saves your time and helps you to earn more money. So stay connected with this post and read each line till the end.
What is Google Pay Go India Game?
Google Pay Go India Offer is an exclusive offer for all the existing or new users of Google pay by completing which you can win multiple prizes. You can achieve this offer by visiting all cities of India provided by the application in your account.
However, this is not as easy as it's seen because you need to collect Google Pay Go India Kilometre and Go India Google Pay City Tickets that eventually allow you to Grab scratch cards. Fortunately, you can visit the respective cities virtually and get Rs 101 – 501 price from Google Pay directly on your linked bank account.
How to Enable Google Pay Go India Offer 2020?
If you are not able to enable Google pay go India offer or having difficulty to check the offer directly on the application, then don't worry. Just follow the steps given below and starts earning from the very next moment:
1. The first thing you have to do is join the beta program of Google Pay and linked your account with them.
2. Just open the Play Store on your device and search Google Pay on the search bar.
3. After that, you will see the Tap on join beta option. Hit that button, and after a few seconds, you will find yourself in the beta program.
4. Now open the application where you have to click on the update app option.
5. When the application update gets completed, open the app and find Go India Google Pay Game offer under the promotion tabs available on the middle section of the homepage.
4. Hurray! you have successfully enabled Google pay go India offer.
Now it's time to move to another important section of this post.
How To Collect Google Pay Go India

City Tickets

and

Kilometer?
It is really convenient to do this task, but you have to follow the given steps carefully:
1. In the first step, you have to visit the offer page of Google Pay Go India Offer, and Hit the Enter Button appears in the middle of the screen.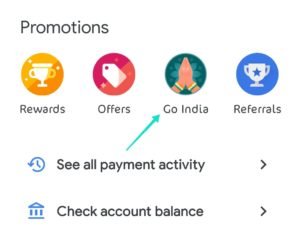 2. Now it's time to collect Go India City Tickets that ultimately allows you to play the game.
3. Press the Start Playing Button that will redirect you to a new page where you have to select a starting point.
4. It entirely depends on you to choose a location, which is the most appreciated thing about this offer.
5. After picking your starting point, click on the let's go button.
6. Now you are eligible to get your First City Ticket and KM by opening the Gift Box.
7. Gift Box contains 2 Tickets which can be redeemed by every user after the very next second of opening the box.
8. After getting the Tickets, you can click anytime on their icons during the game that will ultimately forwards you to the next step.
9. During the playtime, a user can cover up to 3000 Kilometer, and if you want to cover more, than you should find out the working ways to get additional Km.
10. And the next step moves to the dashboard and Tap on the Go button of any city card.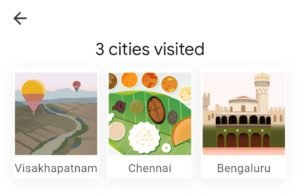 11. After tapping, you will award with one photo, which you can share with your friends to earn more tickets.
12. Repeat the Same Process with the second ticket.
If you want to add new cities to your map, then you have to revisit the homepage of the offer and click on the ticket icon. Fortunately, you have the option to request the tickets from your friends or family members who are using Google Pay.
Ways to Earn Google Pay Go India City Tickets
Gift or request from your friends
By completing different offers
You can share your tickets map with your friends to earn Google pay go India city tickets
Recharge or devices through the Google pay platform.
Note:- Many other ways help you earn Google Pay Go India city tickets, but currently, they are not active. We will update the ways when they are activated on the offer home page.
How to Earn City Kilometer in Google Pay Go India
1. First of all open Google Pay app in your device & Goto Dashboard and tap on Google Pay Go India Kilometer (KM) icon.
2. You can collect daily free KM by opening the game and get morning gift.
3. Gift City Tickets to your Friends and get free (KM) Kilometer.
4. Share Google Pay Go India Map & Photos to earn free KM.
5. Bank Transfer (Coming Soon).
6. UPI Payment (Coming Soon).
Google Pay Go India Game Rules
Visit all the cities in the Go India game by 25 Nov 2020, 11:59 PM to earn the Go India Champion reward worth ₹101-₹501.
To visit a city in the game, collect both city tickets and kilometres (KM). The more you collect, the more cities you can visit.
City tickets and KM are given out randomly. You could collect any of the cities or KM through the different actions. Tap the ticket or KM icon to learn more.
You can collect a maximum of 1 city ticket or KM for paying to the same merchant or person in a day. Pay different recipients, get more!
Your KM will expire if not collected in the game within 48 hours from receiving.
You can visit up to 3 cities daily during the game period, so travel wisely!
If you don't see collected tickets or KM in your game, just exit and open the game again. It may take up to an hour to appear.
Go India Full Map
Thanks for visiting our website and giving your valuable time to read this article. I hope you get the Google Pay Go India Offer Details and start collecting tickets. If you have any queries or doubt related to Google Pay Go India Collect Tickets Visit India Offer, then you can comment down your problems.
If you like this article, then please share it with your friends and family members so they can also earn enough money in their bank accounts. Don't forget to bookmark our website on your default article to get updated with the latest posts.