How to Delete PayTM Account
10 Simple Steps

to Permanently Delete

Paytm Account

in 2021
Paytm is an indian e-commerce payments system and financial technology company. Paytm stands for pay through mobile phone and it is India's largest payment platform. Since the COVID-19 period, people are rushing to online payments app instead of paying cash, such as paytm, phonepe and google pay.
People have started focusing on their health, which can prevent the virus from spreading. However, it is not easy for some people to understand all the payment apps. They have difficulties in transacting payments. If you have such problem with paytm wallet app then you can delete your account.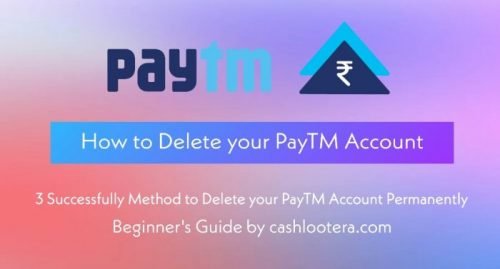 Dear, if you want to delete Paytm account permanently or for a period of time for some reason, here, we will let you know what are the processes to deleting or cancelling your Paytm account.
There are 3 different ways to delete Paytm account. This article has done this to varying degrees to help you delete Paytm account permanently!
The Paytm account deletion method is not an automatic process. It will be done manually by the Paytm technical team. Therefore, you must have a legitimate reason to request the Paytm team to delete the Paytm account with complete details. Therefore, if you do encounter any issues, you can request the deletion of your account. Below, we will introduce two methods in detail. Read carefully and apply any method.
Before deleting a Paytm account, there are some important points to remember:
Your account of Paytm balance must be Rs.1 or less
Your Paytm bank account balance must be Rs.1 or less
The FD account balance must be Rs.1 or less than Rs.1
You must submit a valid KYC document to pay Paytm
After closing your Paytm account, go to your Paytm bank. FD, all business accounts will be closed
Advantages and Disadvantages of Delete Paytm Account
Deleting Paytm account may have some advantages and disadvantages, which is very important before deleting Paytm account, so you can understand what benefits and losses will be encountered if you delete Paytm account.
Advantages
Delete other online wallet applications to enhance the security of your funds
Get rid of the trouble of remembering the password and logging in details.
You can use another online wallet app instead of Paytm account and get hold of benefit from its features
Disadvantages
Your order history will be deleted, that is to say, all the things you did on Paytm, such as top-ups, fund transactions, etc., will be deleted.
Check out several Other Information on Deleting or cancelling Your Paytm profile Account.
Paytm provides customers with two platform options, one is the customer's website-paytm.com, and the other is the Paytm application. The Paytm app is a cross-platform app available for Android and iOS users. Maybe you have been using Paytm for a while, but if you notice, there is no option to delete your account.
#1 Ninja Technique – Delete PayTM Account through Chat Process
Step 1: First log in to your Paytm account (the profile you want to deactivate or delete).
Official Website – https://www.paytm.com/
Step 2: Click Right on the profile dashboard.
Step 3: Then click 24 × 7 Support or Help.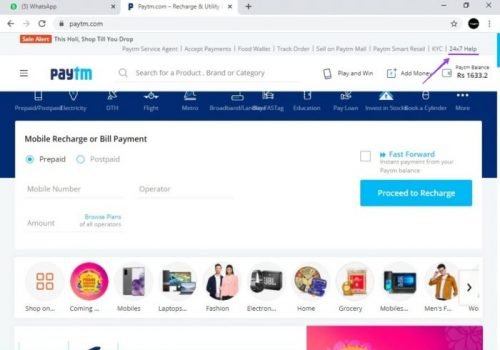 Step 4: Scroll down and click on Profiles and Settings (My Account).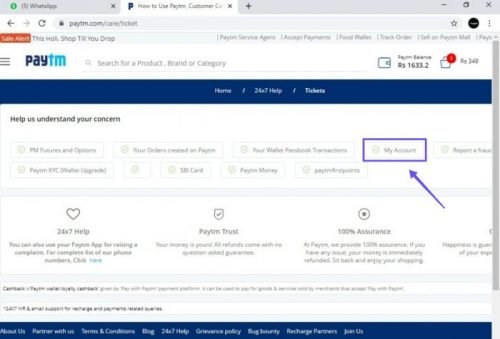 Step 5: Select your Issue category – I want to delete or close my paytm profile account permanently.
Step 6: Now You have to choose your reason, why you're going to delete your account.
Step 7: Scroll to the bottom, enter the following details carefully, and attach a valid document.
Step 8: Explain why you want to delete or close your Paytm account in the message box and send it.
Step 9: Finally, preview or read carefully all your details and submit your all details.
Step 10: After 72 hours, you will received a confirmation SMS on your registered phone number or email.
Step 11: You will see two links – click on the first link and delete your profile, the second link is ignored for deletion request.
#2 Golden Technique – Change PayTM Number or Delete PayTM Registered Number
Paytm allows you to change your Paytm registration mobile number. Using this step, we will share how to delete your existing Paytm number from your current account. After changing the number, you can create a new account with your old Paytm account.
First log in to your account Paytm App.
Then go to your profile part.
Click to edit your profile account.
There you will see the phone number, just edit the phone number and enter any unregistered Paytm account
Now click save from the upper right corner
Finally, you will receive a new Otp password, just drop the OTP and verify the new number
That's it, your old number has been deleted from Paytm
Now, if you want to create a new account on this number, you can register for a new account.
How to Delete or Deactivate your Paytm Account Rightly
First download or open Paytm account from any browser
Now open the Paytm App/Paytm.com website and log in to the existing account you want to delete
After that, go to the Paytm configuration file section
Now click on the "Contact Us" option to submit your report
Then click on other options to submit the request
Now describe to you the exact reason for your Paytm account
Top Things you should know before Delete Paytm Account
Before closing/deleting your Paytm account, there are very few things you need to check to make sure you don't lose anything in the process:
1. Check if there is any balance in your account and transfer it to your bank account.
2. Check whether you have finished the process of KYC, as this requires transferring amount from your account of Paytm to your bank holder account. KYC will also help you easily delete Paytm account.
3. After closing your Paytm profile account you will not be able to sign in your Paytm with using mobile number or sign ID.
Frequently Asked Questions
Q1. Can I register a new Paytm account again with the same Paytm number?
Paytm has 2 different methods to defuse your Paytm profile account. The first is to block Paytm accounts, and the second is to permanently delete paytm account.
Q2. How to delete my Paytm account easily?
This method is the easiest way to disable or delete Paytm account. Please call Paytm on 0120 3888 388 and ask them to delete your paytm account.
Conclusions
Therefore, if you want to delete paytm account, you must contact Paytm's customer service team/customer service through its website. You will have to issue a ticket that contains all the details of the Paytm account you want to delete/close.
Before making this request, please make sure you have transferred or used up all remaining funds. You can also contact the paytm payment bank service hotline and request to close your account. Or delete paytm account from the phone.
You can easily check and access your transaction history; you can change the profile settings from the profile icon and conduct currency/currency transactions or clarify any issues. If you want to stop using FASTag, you can call the paytm customer team at any time to request the closure.