Microsoft Student Discount
Microsoft office is a highly demanded software to create and edit varieties of documents. It has always remained popular among business people, students and professionals. You expect to get a pool of benefits by using the mentioned editing service. Here, we have shared a few of the excellent uses brought by Microsoft to us.
Microsoft Office Student Discount program is available for every eligible user. You may try availing of the offer by getting a valid student ID. Most of the colleges and universities use it to give a perfect deal to their students.
Trending – Windows 11 Full Features, Release Date & ISO File Download
Microsoft Office Student Discount Program will be available to you after your educational institute signs a deal with Microsoft to provide a student plan. After this, you have to purchase a specific plan to download the respective desktop application.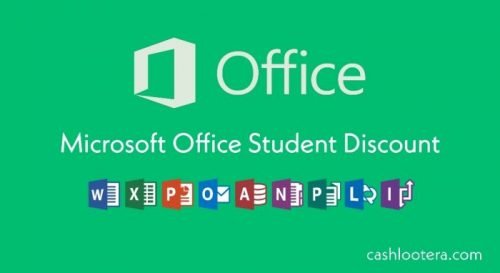 In this exclusive content, we'll get to know about microsoft office student discount and how can we get it.
Does Microsoft have Student Discount?
Microsoft is the largest software company in the world, which always takes certain steps for its audience. Like Student Discount, Microsoft made this discount available to students and teachers, later it was also offered for schools, colleges and institutes. The MS Office has helped students in many ways to study, you can buy it from the student plan and get a good discount. If you want, you can take it for the whole school or institutes too. If you are an individual, then follow the steps given below and grab the microsoft office student discount now.
Other Students Offers you can Apply for:
How to Get the Microsoft Office Student Discount
Microsoft users have to follow a few of the simple and easy steps to avail the student discount and reduce the subscription price. These include the following:
Step 1 – Visit the Link by Microsoft Office 365
The website of Microsoft Office 365 has a unique option for all its users willing to get a suitable education plan. The link will initiate the discount procedure.
Step 2 – Sign up to the Website by Using School IDs
If you are a new Microsoft user, you may sign up to Office 365 website by using your School ID. You have to enter your ID created on .edu domain on this platform. This step allows you to get access to exclusive student discount by Microsoft. We recommend you selecting the student option while entering the email address.
Step 3 – When You Do not have Microsoft Account
Office 365 users, who do not have their Microsoft account have to create one. This feature will give them plenty of benefits. We will recommend you entering each of your personal and educational details properly. You must click on the displayed start button to start the process of creating your account.
Step 4 – Utilization of the Features of Microsoft Office 365
Microsoft users may now start utilizing the features of Microsoft Office 365 at free of cost. The feature is available easily via cloud platform. Now, you may easily start with creating almost every document.
The best thing is that the features of Microsoft Office 365 are of free of cost for every user, who has separate student account.
Exclusive Features of Microsoft Office Student
Microsoft Office Student Discount is the right option for all working with its online version. The prime features to utilize with the student plan of Office 365 are:
Free Access to Various Microsoft Apps
Users with Microsoft Office Student Discount may efficiently use every Microsoft App to complete their college assignments and applications. The discount program is preferable for all want to get a single place to highlight their productivity. A few of the platform apps are Word, Excel, One Note, Teams, Power Point and similar others.
One Drive by Microsoft Office 365
One Drive is one of the free to use type of cloud platform available for users. The platform works perfectly for all want a space for uploading the contents. Users may even share the link of one drive with their friends and classmates.
Assurance of Long Term Secured Environment
Microsoft brand always gives a huge importance to the security of its clients. Users may expect to have a secure environment on a long term basis. Indeed, Microsoft Office 365 account benefits all, who keep privacy at the top priority.
To conclude, we should say that Microsoft Office Student Discount Program is an excellent option and a preferable productivity platform for both college and school uses.
If you are a student, to get this Microsoft Office Student discount, you must have a valid student id as well as an email account that you must have got from your school or institute. This is the necessary material, which will help you to get a discount, after choosing a student plan you will have to create a new Microsoft account and checkout your order. After the discount is applied, the price of Microsoft Product will drop.
FAQs: Most Asked Question
what is Microsoft office?
MS Office is a software or service developed by Microsoft Corporation. It is a family of popular software's like Microsoft Excel, Microsoft Words, Microsoft PowerPoint etc.
Does Microsoft Office have student discount?
Yes, Microsoft Corporation also offer good discounts to students. They know that this software will be very helpful for them in studies, so they are given this special offer. In this offer, students can get up to 30% discount by submitting their ID.
How much discount for Microsoft office student office?
If you are a teacher or student, you'll get 30-70% discount on purchasing Microsoft office. Go to the MS Office purchase link, select student deals, create your student account & submit your student id, at last proceed to checkout your order.
Can I get Microsoft office student discount in store?
You can get microsoft office student discount officially on Microsoft Store or website. For this, you do not have to put effort to go anywhere else. With this You get the original MS product with original license key at Microsoft Store.