OpenAI is a research company which works on Artificial Intelligence with the motto to develop AI models that help mankind. One of the services offered by OpenAI is OpenAI's API. These APIs can be used by programmers or developers to integrate the functionalities of this AI into their applications. And the biggest benefit of OpenAI's API is that the developers needn't worry about the infrastructure when they are integrating this into their apps.
OpenAI's API is Not Available in Your Country
The error message "OpenAI's API is not available in your country" is a hella common issue that's faced by a lot of users. This problem is faced by people in certain countries, where they are restricted to use these services due to local rules and regulations, agreements, etc. Let us discuss the possible reasons for your error message in detail, and then the methods to fix that.
Possible Reasons for Your Error Message
One of the possible reasons for the error message "OpenAI's API is not available in your country" might be because of the fact that OpenAI might have certain restrictions on operating in certain countries across the globe due to several factors such as data privacy laws, licensing agreement issues, etc. So the geolocation that you are staying currently while trying to access OpenAI's API might be an issue why you are getting the error message.
If you are trying to access the OpenAI's API from certain regions where the company has not yet rolled out the product, this might be a reason for getting the error message "OpenAI's API is not available in your country". The company might be trying to expand in your country as well, but at the moment you cannot access this API.
This is because the API might not have been optimized for use in your region. The company has to consider the local language compatibility, local laws and several other factors before launching the API in the region. So you have to understand that this is the cause for the error message and start working on methods how to solve this problem.
Sometimes, the error message might be displayed due to technical issues such as server problems, data connection issues, firewall-related issues, or the device version being older, etc. Some of these can be solved by updating your system and clearing the cache.
So, this can be disappointing for people who wished access to AI models like NLP(Natural Language Processing), image recognition, etc. offered by OpenAI. But we have a list of methods on how to fix "OpenAI's API is not available in your country". Now let's not waste any further and dive into the methods of fixing this problem.
How to fix "OpenAI's API is Not Available in your Country?"
There are a few methods you can try to access OpenAI's API in your country despite the error message, and they are as follows:
Use a VPN
One of the best possible solutions to fixing this error message would be to use a VPN. Since you cannot access the OpenAI's API from your area, you can try changing your virtual location to a different region where this API can be accessed, with the help of a VPN. An important thing to note while trying to use a VPN is that confirm from reliable sources that the VPN you are going to use is secure and it's not banned in your region. Now, after changing your virtual location, try accessing the API again to see that the error message will not be displayed anymore.
Change the Country/ Region
Sometimes, issues within your device settings can stop you from accessing the API. This might be when the location of your device is set to a location that is not provided access, then you have to simply go to your device region's settings and change it to a country that can access the API.
Contact Customer Support
After trying the above-mentioned methods and if you are still unable to access the OpenAI's API, then it's high time that you need to contact OPenAI's support team for further assistance. You need to tell them about your problem in a detailed way and then mail it to the support team or you also have the option to fill up the support form and they will get back to you.
OpenAI Help – https://help.openai.com/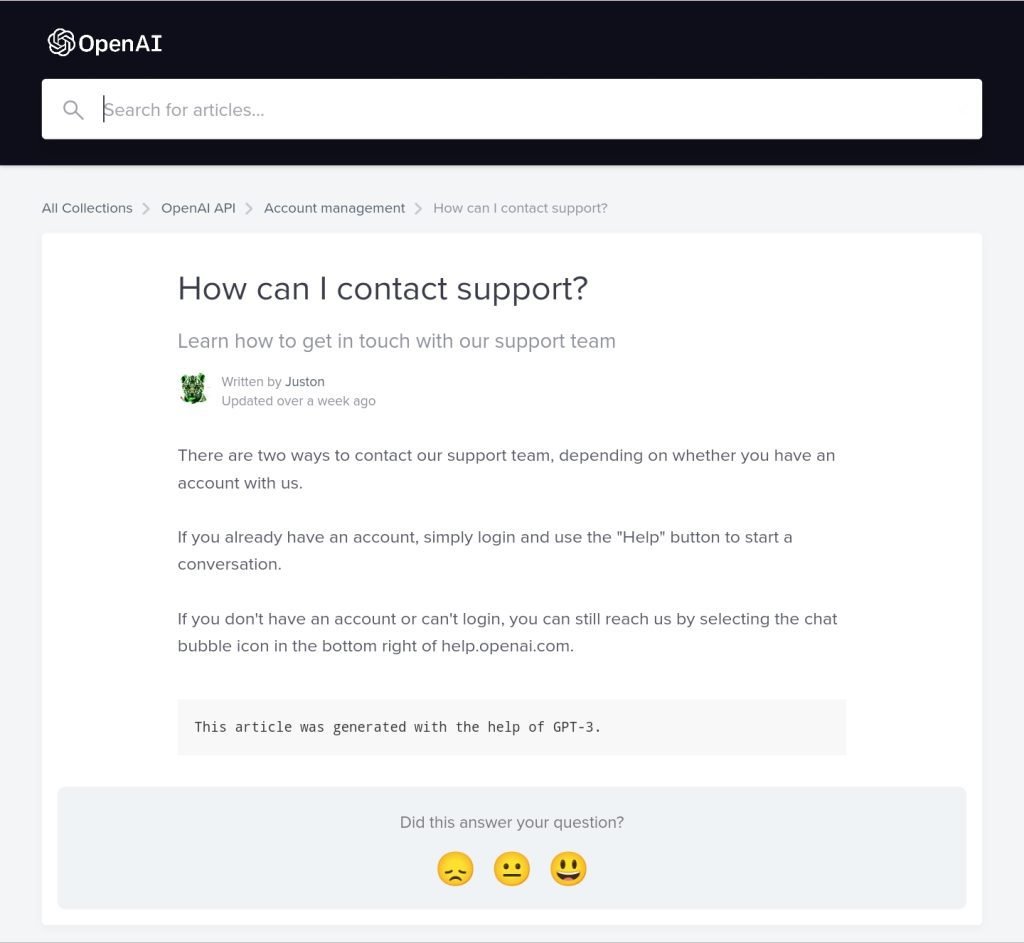 OpenAI's API Supported Countries
Antigua and Barbuda
Argentina
Armenia
Australia
Austria
Bahamas
Bangladesh
Barbados
Belgium
Belize
Benin
Bhutan
Bolivia
Bosnia and Herzegovina
Botswana
Brazil
Brunei
Bulgaria
Burkina Faso
Cabo Verde
Canada
Chile
Colombia
Comoros
Congo (Congo-Brazzaville)
Costa Rica
Côte d'Ivoire
Croatia
Cyprus
Czechia (Czech Republic)
Denmark
Djibouti
Dominica
Dominican Republic
Ecuador
El Salvador
Estonia
Fiji
Finland
France
Gabon
Gambia
Georgia
Germany
Ghana
Greece
Grenada
Guatemala
Guinea
Guinea-Bissau
Guyana
Haiti
Holy See (Vatican City)
Honduras
Hungary
Iceland
India
Indonesia
Iraq
Ireland
Israel
Italy
Jamaica
Japan
Jordan
Kazakhstan
Kenya
Kiribati
Kuwait
Kyrgyzstan
Latvia
Lebanon
Lesotho
Liberia
Liechtenstein
Lithuania
Luxembourg
Madagascar
Malawi
Malaysia
Maldives
Mali
Malta
Marshall Islands
Mauritania
Mauritius
Mexico
Micronesia
Moldova
Monaco
Mongolia
Montenegro
Morocco
Mozambique
Myanmar
Namibia
Nauru
Nepal
Netherlands
New Zealand
Nicaragua
Niger
Nigeria
North Macedonia
Norway
Oman
Pakistan
Palau
Palestine
Panama
Papua New Guinea
Peru
Philippines
Poland
Portugal
Qatar
Romania
Rwanda
Saint Kitts and Nevis
Saint Lucia
Saint Vincent and the Grenadines
Samoa
San Marino
Sao Tome and Principe
Senegal
Serbia
Seychelles
Sierra Leone
Singapore
Slovakia
Slovenia
Solomon Islands
South Africa
South Korea
Spain
Sri Lanka
Suriname
Sweden
Switzerland
Taiwan
Tanzania
Thailand
Timor-Leste (East Timor)
Togo
Tonga
Trinidad and Tobago
Tunisia
Turkey
Tuvalu
Uganda
United Arab Emirates
United Kingdom
United States of America
Uruguay
Vanuatu
Zambia
Alternatives to OpenAI's API
OpenAI's API is an amazing platform for natural language processing, however, if you cannot access it in your region, you can consider some of the alternatives mentioned below to get the same services offered by the API. Some of the best alternatives are as mentioned below:
Google Cloud Natural Language API: It is a cloud-based platform that is used to perform several functions such as sentiment analysis to indicate the tone of the text input or text translation to detect the given input language and translate it to the desired language, etc. The platform uses advanced natural language processing techniques and is popular for easy-to-use features and smooth integrations across other apps.
Amazon Comprehend API: The Amazon Comprehend API is also a cloud-based platform for NLP and text analysis. The key features of this API include topic modelling, and keyword extraction, among other things like language detection, sentiment analysis, etc.
IBM Watson Natural Language Understanding API: The IBM Watson Natural Language Understanding API also provides us with the same features that every other API in this area provides, however, the key features that put this API from the rest, are concept tagging, keyword extraction, relation extraction, and category classification.
Microsoft Azure Cognitive Services Language API: the Microsoft Azure Cognitive Services Language API has a lot of similarities with OpenAI in terms of its features. It offers a wide range of text analysis capabilities, including key phrase extraction, content moderation, named entity recognition, and part-of-speech tagging. One of the best things about this API is its user-friendly interface. It's designed to be easily accessible and integrate with other services offered on the Azure platform. This makes it a great choice for developers who want to build NLP-powered applications on the Azure cloud.
spaCY API: The spaCY API, unlike the other commercial alternatives mentioned, is open-source software that has most of its features available to the common public for free. Some of the features can be accessed with the paid version only. The key features of the spaCY API include part-of- speech tagging, dependency parsing and text classification among other things.
Fix the Error?
The error message "OpenAI's API is not available in your country" might be because of reasons like the geographical location you are present, the local laws and licensing agreement issues. To fix these issues, you can try using a VPN to change your virtual location or try contacting OpenAI's support team. And if none of these work for you, you have several other options available in the market for you, and they are from reputable companies like Microsoft Azure, Google Cloud, Amazon and IBM that offer similar services.
Now that you know about the methods to fix this problem and the alternatives for OpenAI's API, it's time that you start using one of these and get the best out of them.