PUBG Tricks Free
PUBG Mobile Tips and Tricks
PUBG Tricks, PUBG Mobile Tips and Tricks, PUBG Hacks – Hey lootero, are you looking for new & working pubg tricks for Pubg Mobile so that you can get something special for your pubg character. Before this, we shared a collection of PUBG Redeem Codes 2020 hope you have checked that too.
In this exclusive content you'll get all the latest pubg tricks that are going on right now. The official pubg team brings new events and some special items to its players on every festive season, which will also increase the curiosity of players who do not have the ability to buy season royale pass.
Bookmark this post so that you can easily catch all the pubg tricks that are updated in the future. Right now we are talking about those tricks which are working well for every pubg lover. If you want exclusive items for your pubg character then you're landed at the perfect place bro.
Let's Dive Right in.
Best PUBG Tricks to Get Rare Items
Here we keep updating new latest and working tricks from time to time. And right now the below mentioned tricks are working fine. Take advantage of this before the trick ends or expired.
[Working]

Get Roasted Lam + Diamond + Canon Popularity for Free
1. First of all download any VPN in your device (I personally recommend for Solo VPN or NordVPN).
2. Now connect it to Turkey server.
3. Open your pubg mobile & goto the event section.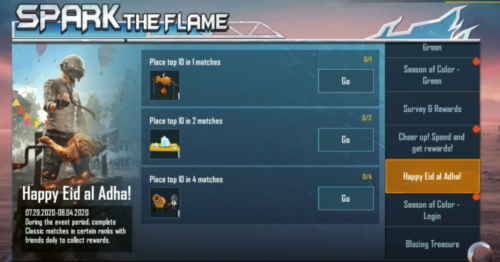 4. There you will see Happy Eid Al Adha event.
5. Complete 4 Matches under Top 10 with your friends and get roasted lam, diamond or Canon Popularity for Free.
[Working]

Collect 3 RP Card, Classic Coupons & More
First of all, Goto the Clan Section & there you will see PUBG Clan Upgrade option to collect your rewards.
PUBG Admin who created CLAN they need to upgrade their clan select classic clan, EVO ground clan & RP Clan.
Clan Leader & members can collect their rewards by completing those missons.
[Working]

Cool Cat Set Worth 200 UC for 10 Days
First of all, Click on this Link to get this outfit.
[maxbutton id="1″ url="https://www.midasbuy.com/in/event/register/pubgm?lan=en&from=__mds_buy_banner" text="Redeem Gift" ]
Tap on Register to collect this reward. You need to login through your facebook account.
Copy your pubg character id and paste it there.
Now click on Get it option.
Finally, open your pubg mobile & Goto the Pubg mail box then tap on Collect.
[Working]

Get 1 Football Popularity of 400 For Free
1. First of all Open Pubg Redemption Center via this Link.
[maxbutton id="1″ url="https://www.pubgmobile.com/act/a20180515iggame/" text="PUBG Redeem" ]
2. Paste your Pubg Character ID.
3. Enter this PUBG Popularity Redeem Code of Football Popularity.
4. Finally Tap on Redeem button to collect your gift.
5. Open Pubg mobile & goto the mail box then tap on collect.
[Expired]

Get UMP9 Orange Skin for Free 3 Days
Firstly, Open Pubg Redemption Center.
Copy your character id & paste it there.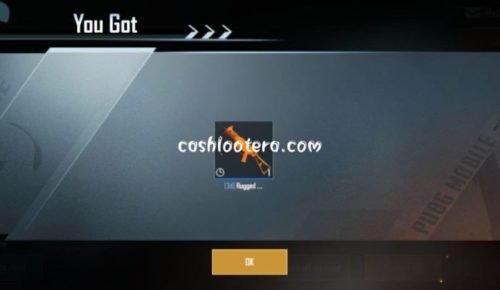 Enter Redeem Code & Verification Code.
Finally tap on Redeem button.
Now open your pubg mobile & collect your gift from mail box.
[Working]

PUBG Tricks Get 1 Premium Crate For Free
Open your Pubg Mobile and Tap on events section & goto the Blazin Treasure.
Now click on the Petrol pump symbol.
Tap again on Petrol Pump.
You'll get your Premium Crate for free.
[Working]

Get Car Popularity, Rename Card or Cheer Park Card For Free
1. First of all, connect the VPN to Turkey server.
2. Now open your pubg mobile & go to the even section.
3. Click Spark the Flame event tab.
4. Now you need to Spend 200 UC to collect all these three gifts.
5. Tap on Question mark & buy 2000 battle coins worth 200 UC.
6. Again goto the Spark the Flame event & collect all your gifts.
Join Telegram for More Tricks
We share many such pubg tricks related to pubg mobile with our users on our Telegram Channel, for this you need to subscribe us on telegram. We also have more than 18,000+ subscribers with you who enjoy daily updates of tricks and other offers.
[maxbutton id="5″ url="https://t.me/cashlootera/" text="More Tricks on Telegram" ]
Along with tricks, we also offer gaming news, secrets tricks, hacks and upcoming updates on Telegram. Giveaways are also done within weeks or on a special day, by participating in which you can also win PUBG Royale pass and free uc.
FAQs on PUBG Tricks
√ Is this PUBG Tricks safe?
Of course, all these tricks have been released officially by the pubg. You can use them without any hesitation.
√ Is this tricks for a limited time?
Yes, this trick is limited to a short time. However, the pubg has released this only for its users, they can be used only for a specific time, later this trick will stop working.
√ Can I Hack Pubg?
Yes, you can also hack and play pubg. For this, you will have to seek help from third party tools. But you can also find the legendary items for free using these geneuine tricks. The best part is that all these tricks are anti-ban.