Spotify Student Discount
Spotify Student Premium for 1 Year – Spotify Student Discount Hack
Spotify Student Discount – Spotify is a popular music streaming website across the world. About millions of people use the site to meet their streaming needs. Spotify especially has students as its massive target audience while it is now trying to give the community back. Hence, if you are a student in any of the reputed institutes of the United States, you must take benefits from the lucrative deal named Spotify Student Discount.
What a Spotify Student Discount Plan Offers You
With a Spotify Student Discount you get a premium plan by Spotify for only half an amount of what you or any other pays actually. This means, the plan will give full access to the Spotify music library.
The library has millions of melodious songs to enjoy without any annoying popups or advertisements. Also, the music library let's you to listen any song offline. Depending on the offers you already have, Spotify student discount may give you extra, like subscription to Showtime or Hulu without any additional charge.
Eligibility Criteria to Get Spotify Student Discount
Spotify Student Discount has specific requirements, because of which one can easily determine whether he or she is eligible or not. Accordingly,
If you are enrolled in any university or college, which has accreditation with US Title IV you are eligible.
Also, a person must be minimum 18 years old.
Note – Spotify counts community colleges, four-year colleges or universities and various other accredited universities or institutions until and unless they stay accredited to the US Title IV. If you have doubts whether your school has qualifications or not, you may use the website of Federal Student Aid to check and verify Title IV accreditation.
If anyone signed up already for the Premium subscription by Spotify before his or her enrollment at any of the qualifying schools, he or she is still eligible to get the discount. Once Spotify approved, you will get the details on discounted price next time whenever the subscription renews.
Other Students Offers you can Apply for:
Features or Benefits of Spotify Student Discount
The features or benefits associated with Spotify Student Discount plan will vary according to the region you have your college or university in the United States. You may see the benefits after you complete your purchase, which include the following:
Unlimited Downloads and Ad-Free Streams
Spotify premium users may save their music to enjoy on one go. We have heard many annoying Spotify advertisements. Each of the ad-free streams are excellent options to fulfill the music requirements. You will expect to experience a smooth and seamless streaming experience.
The student discount will reduce the burden on your shoulders related to any expensive monthly payment. The download feature allows you storing high quality of music in a hassle free way. They do not occupy much storage space. Along with this, you get the facility of offline streaming to save your data.
3-Months of Free Trial
Spotify Student Discount is offering 3-months of free trial to all of the USA students. Accordingly, you will get your first bill after 3 months of the date of your subscription. However, the plan will be valid for you if you stay prepared for long term commitment I.e. stay with your plan for one year. You cannot cancel your subscription after your three months trial. The trial pack is a lucrative deal for everyone wants to enjoy music a lot.
Add-on Subscriptions
The student comes in a bundle with complimentary Hulu Ad and Showtime subscriptions, which are perfect additions for every student.
Steps to Sign up for Spotify Student Discount
Step 1: Sign up process associated with the Spotify Student Discount is easy as the sign up in case of any full price type of Spotify Premium account. The difference is you must provide some important details, which Spotify will collect for verifying your enrollment at the respective qualifying institute.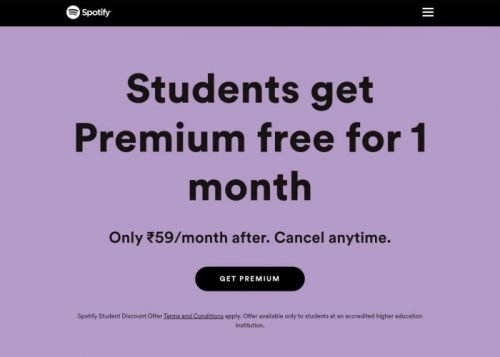 Step 2: To start, navigate to the link of Spotify student and click on the option showing Get Started.
Step 3: You may log in by using your Spotify account or sign up to create a new one.
Step 4: Enter your details as a student and click on the option Verify. On doing so, the website will redirect you to SheerID I.e. the verification system of Spotify automatically. You must enter the billing details for completing your signup process. You are now ready to enjoy music by using your new Spotify Student account.
How Spotify Verifies the Student Account
Spotify uses SheerID as its identity verification service. It verifies whether you are enrolled or not. Besides Spotify, Nike and Amazon use this service as well. Hence, if you have already signed up for your Amazon student account, you may easily get a Spotify student discount.
When SheerID fails to verify the students' enrollment automatically, you have to upload your support documentation. For this, you have to scan the student ID or get access to a few of the documents, like your existing schedule at class or your official letter of college enrollment if you have not yet started your school or classes.
Steps When Spotify Student Verification Fails
If you get a message that SheerID and Spotify were unable to verify the enrollment, you have to upload supporting documentation manually. You may accomplish the same by following the signup process and select for manual verification.
To start the process, you have to navigate to the link of Spotify US student and then click on Get Started.
Login to the website by using your account created on Spotify.
Click on the option of Manual Verify
Enter your details and then click on the Next Step
Click on Select File
Select your enrollment proof and click on Open. Here, documents to accept are your official enrollment letter, latest student ID, your registration receipt, existing class schedule, your existing transcript or any other document issued to you at school that highlights your name and issuing date within the previous three months.
Click on select file to give proof or click on Upload Document for continuing the process.
Once Spotify verifies your documents successfully, you may complete your signup process with your Spotify Student Discount. If you still find your Spotify account not working, you must contact with the customer support of Spotify to get further help to verify your enrollment.
Overall, Spotify Student Discount gives tons of value added subscriptions for students belonging to different areas of the United States of America and India.
FAQs: Most Asked Question
Does Spotify have a Student Discount?
Yes, Spotify offers a separate discount for students in which you reduce the price by 50%. This premium discount is only available for students, you have to use your student id to grab it.
How to Apply for Spotify Student Discount?
Remember you must have your student id. First of all, go to the spotify premium plans and select the student plan, now verify your student id and buy the plan. There is not much difficulty in getting a student plan, only you will have to work hard to verify the student id.
Can I Renew Spotify Student Discount?
Of course, you do not have to pay much money in renewal. The monthly price for students has also been reduced significantly, any student can afford it comfortably.
Why is Spotify Student Discount Not Working?
If the spotify student discount is not working on your device, then go to the official website of spotify and select the student plan from there. Keep in mind, you can activate the student plan only when you verify your student id.