Voice Changer Software
15 Best FREE Voice Changer Apps for Gaming, Free Fire, PUBG Mobile, BGMI, Discord
Voice changer Applications are software programs, which may change the tone or pitch of any user's voice. You may use it for recording audio and sharing with other users with the help of social media websites or email account. These apps come with a simple interface and multiple effects, which you may apply in real-time for android or iphone.
Voice changers allow individuals to listen to a single voice in multiple voices with different effects. These software programs even allow users to share and save their recorded voices. Moreover, voice changers give easily usable features for their users.
You have to consider the mentioned factors while selecting the appropriate voice changer app for your Discord VoIP Software.
Functionalities
Offered voice effects
Easy usability
Integration with any other software
Support to Plugins
Additional features
Voice changing in real-time
Facility to save and share recorded audio files
If you are looking for a voice changer app for online gaming like Garena free fire or pubg mobile then some of these voice changer software can be useful for you. All voice changer software provides special effects and some amazing features like you can edit your voice in anime character, robotics voice, celebrity voice, you can also use these software on your computer pc, laptop, android or iOS devices. Best Voice Changer app during call to prank with your friends.
Disclaimer – Use these apps as entertainment purpose only, you cannot use them for any wrong activity like scam or fraud, in which case only you will be responsible for it.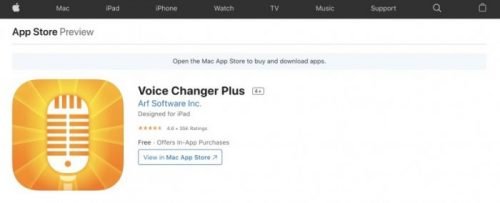 Voice Changer Plus App is a preferable software to change one's voice. The app includes varieties of voice collections and sound effects. The program allows you to place your backward voice. Common features of the app are:
You may use the app for recording your voice with a single tap only.
You may listen to the same records in diverse voices. For this, you only have to select a new voice and tap on your device play button.
You do not have to spend anything to share and save your voice records.
The app gives support to full Voice-over and has the facility of trim control to meet recording purposes.
Supported Device – iOS
Trending – Top 10 Best Free VPN for PUBG Mobile
All in One Voice Changer software is the best one among the choices available for voice changing software for Windows. Features of the app are as follows:
The software comes with multiple platforms to provide a pool of options associated with changing voices.
All in One app provides simple and easy ways to test voice-changing effects.
The software synchronizes automatically with the existing voice call platform of your device.
The app is multifunctional according to its voice changer on Skype with clear contents.
All in One Voice Editor gives support to Yahoo, QQ International, and other communication platforms.
Lastly, the voice changing software is available free of cost, because of which it is easily accessible for every individual.
Want to get a program to change human voice in real-time, just select the Clownfish Voice Changer app. You may install it on your system level to use every type of software, which uses a microphone. Features of the app are:
Users may get this voice changer tool for both 32-bit and 64-bit versions.
One can synchronize the software to Viber, Hangout, and Skype.
One has to install TeamSpeak to use the software.
Clownfish app supports the VST plugin, where VST is the acronym for Virtual Studio Technology. Robotic voice, mutation, Atari game clone, pitch, and support to VST effects are a few implemented voice effects of the voice changing software.
The app has supported effects, which include radio, robot, silence, and male pitch.
Clownfish voice changer facilitates sound management with the help of a built-in sound player equipped with audio control features and enhanced playlists.
VoiceChanger.io online app transforms the voice of a user and adds the required effects. It customizes the effects of the human voice according to the choice of an individual. The free program allows you to include various effects to create sound in the same way as you except in the case of a real thing. Common features are:
You may record voice with the help of a microphone or in your selected web browser.
With Voice Changer online, you may upload the stored files on your device's hard drive.
The app gives support to different voice effects you want.
You may change your videos in any pre-recorded file or may create your new voice.

MasqVox voice changer is one of the real-time voice changers for Skype and chat. You may use the tool in a hassle-free way. Common features of the changer app are:
The Discord voice modifier contains a variety of cartoon and human-based voice effects.
MasqVox voice editor is a lightweight program, which changes voice in multiple ways.
The software performs its functions well with Windows operating system.
Super Voice Changer is also a popular voice changing software that operates in real-time. You may use it with almost every type of audio software. The app may change voice to stimulate female or male voice. Interesting features of the software are:
Users do not need any extra setting for changing the system voice automatically.
You may turn on the software while you chat with other users
Super Voice Changer discord supports multiple versions of the Windows operating system.
If you want to get an easily usable and free program, just go with Voice Master. Common features of the app are:
The voice changing software allows you to change the voice while making Skype calls and let you create conversions out of your expectations.
Voice Master has options related to voice modifications. These include starting on the system and stay on top and others, which you may hardly find in any other software.
Do you want long-running, tested and trustworthy voice changing software? You must go with Viscom Voice Changer, which gives a unique multimedia experience and comes with a pool of interesting features:
The software allows users to capture audio from a wide range of audio devices, including microphones
The software changes the individual's voice to a child or old man.
You may change the voice pitch in real-time and the sample rate by using the software.
The voice editor app may support the adjustment of the WMA profile and the MP3 file bitrate.
Viscom Voice Changer gives support to the waveform color setting and saves the result to MP3, WAV, or WMA audio files.
Voice Changer with Effects is one of the supreme voice editors and is a mobile device app. It improves the quality of your voice and allows recording of your voice in HD quality. Common features of the software are:
Voice Recorder is useful for phone calls and messengers.
The application gives support to multiple effects, which include old man, child, and robot.
Users may get voice effects to sing and share the same with the friends.
RoboVox Voice Changer is one of the android applications, which may transfer with various other voices, like robot voice and musical voice. The software has approximately 32 different voice styles with pitch settings and their modulations. The mobile app saves your recordings according to your choice. Interesting features of the app are:
The android application has different real-time modes, including the facility of real-time recording.
One can record his/her voice easily.
Users may share the result on Sound Cloud or other related audio distribution platforms available over the internet.
You may save and mail the creations in the form of WAV files.
The application creates ringtones of your choice.
RoboVox Voice Editor also provides a vocoder with FFT-based spectral analysis in real-time. This method measures different signals from lots of devices.
11. MorphVox Voice Changer
MorphVox voice changer changes both the pitch and tone quality of one's voice to boost the online experience. The tool can record any sound similar to a man or a woman. Common features of the app are:
The software facilitates changing human voice in high quality.
You may integrate the software with online games and available chat programs.
Discord of the mentioned MorphVox voice changer gives consumes a relatively less use of CPU.
MorphVox voice changer software is available with built-in sound effects and voices.
You may customize the features of both joystick and mouse.
12. AV Voice Changer
Users who want to get a voice changer software fully compatible with different chatting platforms must choose AV Voice Editor. The app allows you to do everything with your voice. Features of the software are:
With the voice changer app, you may convert your voice into pleasant sounds.
You may modify the voice based on your preference.
13. Voice Candy
Voice Candy is an effortless and fun type of voice changer program. Many users perceive it as a photo booth for their microphones. The reason is that it provides a minimum of eight different sound effects to play and enjoy. The app also allows you to switch among voices and record your conversations simultaneously.
14. Hero Voicer
Want to communicate in the voice of different online gaming characters or recreate your voice on Skype, just try the Hero Voicer app. Features of the app include:
The voice editor changes the users' voice online so that they can talk in the voice of many live creatures.
You may invent your unique voice by using the Hero Voicer app.
The software program is preferable among a large number of online gamers, as it creates voices for podcasts, avatars, and online video games.
15. Voxal Voice Changer
Whether you are looking for a voice changer to accomplish your audio projects or for voiceovers, you may boost your business conversion with Voxal Voice Editor. An interesting aspect of the software is that it comes with easy usage and simplicity. Unlike any other voice-changing program, you may download it within only a few seconds.
With Voxal Voice Editor, you may apply the voice effects by using your microphone or any other type of audio input device in real-time and to your existing files.
The app allows users to save and load effect changes to accomplish voice modification.
The vocal effect library of the software contains atmospheric, robot, alien, girl, boy, echo, and various other voices.
Voxal Voice Editing Software allows you to create an unlimited number of customized voice effects, including the use of male or female voices in online games.
The app works well with almost every online game and existing application.
You may even use the app to create a voice for different characters present in audiobooks.
Users can use speakers to output the changed voice for enjoying its live effects.
Low usage of CPU will prevent interference with any other operating applications.
Overall, you will get a variety of options while selecting a voice changer application of your choice. With top-class voice editing, you will create almost everything you want, like celebrity voice, robotic voice, cartoon voice, alien voice, politician voice, and many more.
Recommended for You:
FAQs: Queries on Voice Changer App for Gaming 2023
What is the use of Voice Changer for Discord?
Discord is a type of VoIP software, which allows instant communication and messaging. It also gives a digital distribution platform for mobile and PC users to establish communities and communicate with one another by using video calls, voice calls, media files, and messages with the help of online servers.
Is there any voice changer for free fire?
If you are looking for voice changing app for free fire then use any sound changer software we have mentioned in the list like – Voxal Voice Changer, Hero Voicer, Voice Candy etc. all these tools will help you to edit voice in a better way.
How Voice Changing Software Works?
Voice changer is like a sound editing software, which enables you to edit voice in real-time. Gives you the ability to change your voice to an anime character, child versions, adult versions and male to female. For this, first you download a good sound changer and record your voice in it, then edit it accordingly.