Windows 10 Upgrade to Windows 11
Microsoft has recently launched its first-ever big operating system update with the launch of Windows 11. The operating system has a refreshed look and many interesting features. If you are a Windows 10 user and want to upgrade your device to Windows 11 New OS version, you're landed at the right planet, here we described how you can update or windows 10 upgrade to windows 11.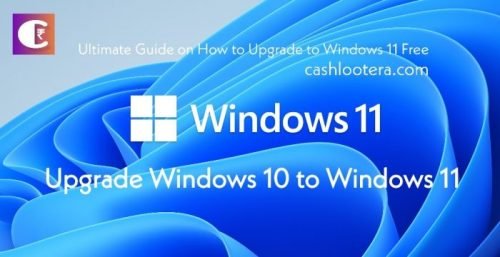 PC Health for Windows 11
Microsoft has listed its basic requirements to install or upgrade to Windows 11. If your device fails to satisfy its minimum requirements, you cannot do windows 10 upgrade to windows 11.
System Firmware
Your system must have UEFI firmware with the ability of Secure Boot.
Ram and Storage Space
Your device must contain 64GB or even bigger storage space. On the other side, the system must contain 4GB RAM.
Processor and Modules
Your PC must have 1GHz or even fast clock speed with a minimum of 2 cores on an SoC i.e. System on a Chip or compatible 64 bits of the processor. Moreover, your device should possess a Trusted Platform Module of version 2.0.
Graphics Card
The graphics card of your computer system must be compatible with DirectX 12 or even higher ones with the driver as WDDM 2.0.
Display
Your computer or laptop must feature a 720pixel of High definition display, which is higher than 9 inches diagonally and must come with 8 bits in a single color channel.
Microsoft Account and Internet Connection
The home edition of Windows 11 must have a proper internet connection and a valid Microsoft account to accomplish the device set up on its first use.
Additional Features
Along with the requirements mentioned here, your computer or laptop must need a few additional features as minimum system requirements. For instance, your device must come equipped with the latest 5G modem to give support to 5G. On the other side, your device must contain an HDR display to use the Auto HDR feature.
Most Viewed – Microsoft Office 2019 Free Download Full Version
How to Upgrade Windows 10 to Windows 11
You may download the upgraded file of Windows 11 from its official website and install it on your computer system or laptop. However, if you want to follow an easy approach, the steps include:
Visit the Start menu and click on the icon Settings.
The Settings page of Windows 10 will open, where you have to click on the option of Updates and Security present on the settings page.
Once the page of Windows Update opens you have to click on the button of Check for Updates.
Now, your Windows PC will start searching for new updates. Here, you will get a list of multiple updates, among which you have to select the ones you have to install.
Check the detected Windows updates to view the Windows 11 upgrade from the list. Select the respective file and click on Download, and then on Install.
With simple and easy steps, you will get windows 10 upgrade to Windows 11 along with its outstanding features on your PC or laptop.
Recently Most Searched Topics on Google: