Pre-registration of Battlegrounds Mobile India has recently started across the country on Google Play Store for Indian game lovers. Besides, many reports have speculated that Battlegrounds Mobile India will launch during the early weeks of June. In this post, you will know everything associated with the pre-registration of the latest mobile version of Battleground India by Krafton.
Highlights of Battlegrounds Mobile India and its Pre-Registration
The pre-registration process has now started only for Android users, as the link is available only on Google Play Store.
There is no announcement related to the pre-registration process on iOS and for iPhone or iPad users.
The new game will give you the almost same level of gameplay experience as you expect in PUBG mobile. However, the latest version will have less violence with more focus on security and privacy.
Android users who succeed to pre-register for Battlegrounds Mobile India will get plenty of exclusive awards. These include the Recon Outfit, the Recon Mask, 300 AG, and Celebration Expert Title, all of which are available only for Indian players.
Steps to Access the Pre-registration Portal on Google Play Store
You have to follow a few of the simple and easy steps to access the pre-registration portal of Battlegrounds Mobile India available on the Google Play Store.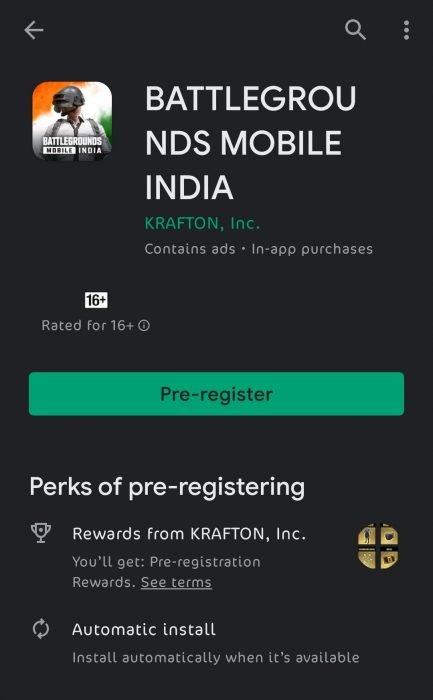 You have to search for the latest Battlegrounds Mobile India game in the Google Play Store of your Android phone or PC.
You have to check the Pre-Register button and click on it. In doing so, you will succeed to pre-register for Battlegrounds Mobile India. Hence, you will get plenty of rewards after the pre-registration process completes and the game launches in India.
Getting Loading Error on Google Play Store?
If the Google Play Store stuck on its loading screen and you fail to access its pre-registration page, you may follow the mentioned steps to resolve the issue:
Open the settings of your app available on the Google Play Store.
Next, you should search for the family option.
Once you get the Family settings, you have to look for Parental control and turn it on.
Finally, you should click on the option of Games and Apps and rate it 3-plus.
After you complete each of the steps, you have to click on the official link of Battlegrounds Mobile India pre-registration again.
Overview of Battlegrounds Mobile India
According to the description of Battlegrounds Mobile India on Google Play Store, it is a type of Battle Royale Game. Accordingly, a large number of players will formulate different strategies to fight with each other to become the last man or the winner. As a free-to-play type of game, players may battle in different game modes, like one-on-one or in a squad.
Interesting Features of Battlegrounds Mobile India
Battlegrounds Mobile India available in India is somewhat different from the global version of PUBG Mobile. Here, each of the players is in full clothes while they land on the gaming map. Moreover, the actual game highlights less visual bloodshed as compared to its counterpart PUBG Mobile. The color of the blood in Battlegrounds Mobile India is green and not red. Even though the gaming maps have similarities, they may have different names. Besides, the game will have many in-game contents. These include limited edition costumes, events, and various others.
Parent Controls and Privacy are Prime Focus
Krafton focused more on parental controls and privacy while designing the latest Battlegrounds Mobile India. Accordingly, the gaming software will store the user data according to guidelines given by the Indian Government. If you are a minor, you have to enter your parent/guardian's mobile number to verify your parental consent for playing the game. Besides, minors can play the mobile version of the game for a maximum of three hours in one day. Other than this, Krafton has limited the in-app purchases for every gamer to up to Rs 7,000 in one day.