Recently, YouTuber Dream took a step that may have been one of the most significant of his career. It wasn't part of a brand partnership or collaboration with a celebrity. A simple gesture brought his millions of followers closer to him: He showed them his real face. It was their first time seeing his face. In this blog, we shall cover everything regarding Dream face reveal.
Dream – Who is he?
YouTuber Dream, who goes by Clay (last name unknown), is known for creating content based on the survival sandbox game Minecraft. Unlike Twitch streamers, Dream's videos are heavily edited, with cartoon sound effects and music layered over his game footage. DreamSMP, a collective of Minecraft content creators, performs role-play scenarios with overt narratives, making their videos more dramatic and serialized. Roughly three years ago, Dream launched his own YouTube channel after posting a video looking for PewDiePie's Minecraft seed. He is now most famous for his "manhunt" videos, where he tries to beat games as quickly as possible while someone attempts to kill him.
Dream's YouTube Channel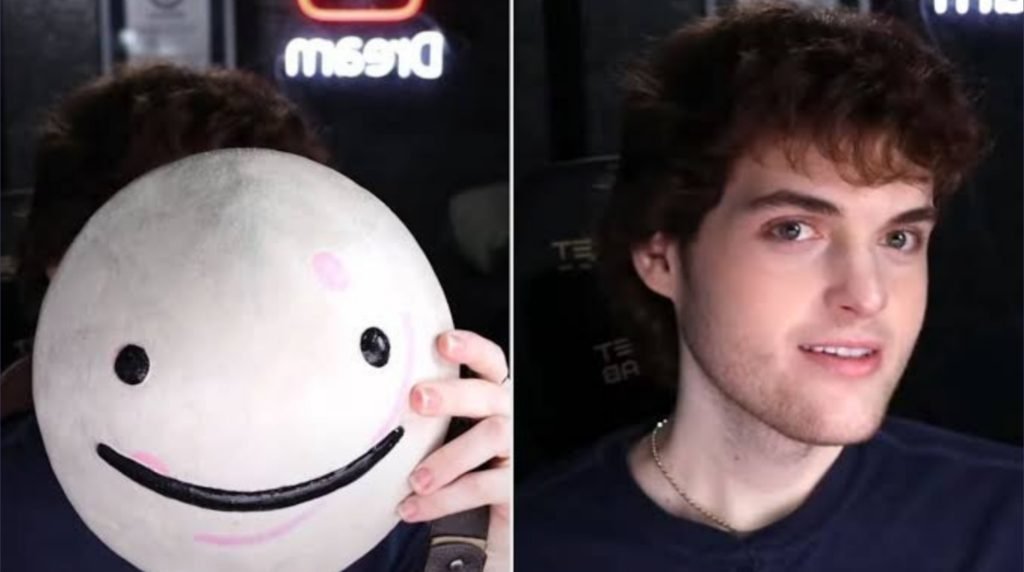 Having grown from 1 million subscribers to over 30 million subscribers on his main account in less than two years, Dream has quickly become a YouTube sensation.
He became YouTube's No. 2 creator after being named YouTube's breakout star of 2020.
During that same year, he co-founded DreamSMP, a group of YouTube creators and their Discord server that has grown into an incubator for some of YouTube's top talent, as each has built a massive following of their own.
This talented group uses Minecraft as a stage for whatever stories they want to tell.
A prominent and prolific fandom was also spawned by Dream and the rest of DreamSMP in the late 2010s and early 2020s. Despite its popularity on YouTube, DreamSMP isn't just a YouTube channel – the channel has a complex web of general fan activity, including memes on Tumblr, chatter on Discord, video edits that go viral on YouTube and TikTok, and fan art across a variety of platforms. Among fanfics on Archive of Our Own, DreamSMP's fanfic about a fictional romance with GeorgeNotFound received the highest rating in 2021.
Twitter is regularly trending with topics related to Dream and DreamSMP. Among the most tweeted content creators on Twitter are Dream and Sapnap, a roommate who periodically collaborates with him.
According to Dream, he did not intend to be anonymous at the beginning of his YouTube career. Initially, he designed a basic avatar based on a picture from Discord that his ex-girlfriend had designed. His account took off after he started uploading videos. The fan art blew up so quickly that it became part of the community. He said it wasn't planned; it just happened so fast.
In his interview with Padilla, Dream framed the decision as fortunate, but in his unmasking video, he had a different perspective. Even though he's reached celebrity status now, he sees the mask as a way for people to recognize themselves in him. He served almost as a vessel with the mask, allowing everyone to project parts of themselves onto him.
Dream's channel proves that anyone can accomplish anything. He said he didn't want his face revealed to take away from the fact that anyone could be under the mask. Because it can be done, and it is true. It is your choice whether or not to do it. Anybody from anywhere could've been Dream.
Why did Dream reveal his face?
As Dream explains, he revealed his face to meet with friends like GeorgeNotFound and get out into the world. As a creator, he can now meet up with his fans in real life and do more work away from his desk. Additionally, Dream indicated to Padilla that showing his face would make it easier for him to create new types of content, such as TikToks or collaborations with Mr. Beast.
Dream Face Reveal Date & Time 2023
Dream announced on his YouTube community tab that he would reveal his face in his next upload.
After a few days, a date was set. After years of mystery and intrigue, fans finally saw the famed Minecraft star on October 2 at 5 pm PT.
How did Dream Reveal his Face?
In the past, Dream had only been seen by the world through his avatar, which was of a white smiley face mask, until Sunday night. As a result of the reveal, his name began trending on Twitter since he posted the unmasking video; the video has over 29 million views as of publication.
Although the moment was remarkable, it was also awkward and quiet. A single bed and black walls adorned the dark room he sat alone in. Despite editing and releasing hundreds of hours of video content and becoming one of YouTube's most-viewed content creators, Dream looked slightly uncomfortable on camera – after all, it was his first time. Due to how the video mirrored the feed, he pointed the wrong way when he reached behind himself to point at the sign in the background. It just seemed like he was a normal kid at this moment. His fans have been waiting years for this reveal, so it was a big deal to them.
Minecraft Dream Face Reveal Clip
casDream's appearance has been a subject of speculation for years. In addition to his charisma, he had a massive following, which fueled a self-sustaining hype machine of diehard fans who wanted a big reveal. Think about this scenario: You have the breakout star of a generation, the second most popular creator on a massive platform, and an enormous source of entertainment. Even though fans never get to see his face, he is one of the biggest celebrities of his time. There's no more guesswork for all those fans now.
In addition, the creator capitalized on the face reveal to the fullest extent possible. In preparation for the reveal, he showed his face on video first to major creators, followed by people posting reaction videos. Major influencers like Addison Rae and other well-known DreamSMP members also reacted to the face reveal. There was a lot of hype created by preexisting intrigue as well as the media circus. Many excited fans expressed their pride at Dream face reveal on TikTok and those who just wanted to be part of the fun. On the other hand, some Twitter users started a hashtag to ridicule the creator's appearance.
FAQs: Most Asked Questions
What is the likelihood of another Dream Face reveal?
Dream said he would be able to reveal his identity soon. YouTuber Kavos asked him about it, and the streamer responded that he had planned to do it early next year, but only if Corona was gone.
Did Dream reveal his face to YouTuber Sapnap?
Like Corpse Husband H20 Delirious, Dream did not reveal his face earlier. The reveal of Dream's face was the day's biggest news, much like that of H20 Delirious.
Does Minecraft have a free version?
By going to classic.minecraft.net, it is possible to play Minecraft for free on the web without downloading anything.